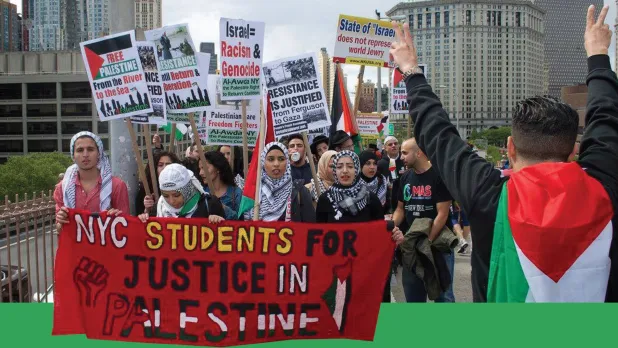 Introduction by Daniel Greenfield:
After Hamas terrorists butchered Israelis, raped and killed teenage girls at a musical festival, and caged children as hostages, Students for Justice in Palestine (SJP) called it a "historic win for the Palestinian resistance."
SJP, a campus hate group backed by Hamas' Muslim Brotherhood parent organization, which has over 200 chapters in North America, declared that, Jewish "settlers are not civilians" and are fair game for the atrocities committed by Hamas against women and children.
"This is what it means to Free Palestine: not just slogans and rallies, but armed confrontation," SJP National posted before urging its chapters to join in a National Day of Action.
Students for Justice in Palestine at Boston University celebrated the atrocities with a poster featuring a scene from the attacks and the title "Victory is Ours."  The University of Chicago chapter also joined in pledging their support for "resistance." As the Hamas atrocities made clear, by "resistance" they meant the mass slaughter, rape and torture of Jews.
At Florida State University, Students for a Democratic Society retweeted a message from the National SDS organization praising Hamas as the "Palestinian resistance" that led "attacks that utterly humiliated Israel." FSU's SDS added, "Victory to the Palestinian resistance!" and pledged ''complete and unconditional solidarity" with Hamas and predicted the destruction of Israel.
At the University of Michigan, its SJP chapter, going by the name Students Allied for Freedom and Equality (SAFE), described the Hamas crimes as a "new precedent for our national liberation struggle" and called for a gathering in Dearborn to honor Hamas and "our martyrs."
These are the reactions from some of the top ten campus hate groups highlighted in this report. Taxpayer money is being used to fund radical groups that demand a second Holocaust. These are not political opinions; in the aftermath of the brutal assaults it is undeniable that their support for the "Palestinian resistance" means the extermination of millions of Jews.
"The Top Ten Campus Hate Groups in America," the Fall 2023 report from the Freedom Center, documents a campus environment that is uglier than ever and exposes the seething leftist hatred of these ten student groups. Beyond their antisemitism, they have silenced professors, intimidated speakers and created a climate of political terror from one end of the country to the other.
From Hamas supporters at Boston University and San Francisco State University to assaults on visiting speakers at the University of Buffalo and the University of Wisconsin-Madison, this fall's campus hate groups are domestic terrorist organizations who are destroying higher education.
The radicalization of universities made them into safe spaces for the worst possible extremists. Conservative faculty and all opposing voices have been banished from campuses. Pro-Israel and conservative students have learned to hide their views to avoid becoming targets. And curriculum changes have turned places of learning into Marxist indoctrination centers.
Those are the conditions under which colleges can celebrate Islamic terrorism or Communism, in which the worst possible crimes, even the murder of children, meet with approval as long as they are dressed up in revolutionary language and woke dogma.
The Hamas movement was incubated by Muslim Brotherhood campus groups at universities and the Hamas supporters on American campuses dream of one day doing to Americans what their political allies in Gaza have been inflicting on Israelis.
That's why it's more urgent than ever to expose and shut down these campus hate groups.
Our college campuses are becoming miniature 'Gazas,' no-go-zones for conservatives and supporters of Israel, where terrorists rule and everyone else is terrified of them. But the David Horowitz Freedom Center is not about to be intimidated and will not stop exposing these poisonous movements and standing up to them. We will not stop fighting the enemies of civilization because we know who they really are and what they stand for.
Read this report and discover who they are and why we fight to expose and defund them.
*
The Top Ten Campus Hate Groups in America
Fall 2023 Campus Report 
#1: Georgetown University, Black Law Student Association
#2: University of Buffalo, Young Democratic Socialists of America
#3: Boston University, Students for Justice in Palestine
#4: Florida State University, Students for a Democratic Society
#5: Louisiana State University, Cooperation Rouge and the Black Student Union
#6: University of New Mexico, Southwest Solidarity Network
#7: San Francisco State University, General Union of Palestinian Students
#8: University of Michigan, Students Allied for Freedom and Equality,
#9: University of Chicago, Students for Justice in Palestine
#10: University of Wisconsin-Madison, Young Democratic Socialists of America
The Public Funding of Campus Hate
The stated purpose of higher education is the search for truth and wisdom, but in recent years, the American college campus has become little more than an echo chamber where radical, far-left, ideology can be refined and then disseminated into the wider national culture. Today's college campuses are ruled by idealogues who view the world through the Marxist categories of the oppressor and the oppressed and seek to destabilize and dismantle America in the hopes of fomenting a revolution. Backed by millions of dollars in federal and state monies, University administrators and faculty teach impressionable students that America was founded on "systemic racism," a stain that allegedly lingers to this day. They fund Middle East Studies departments and institutes which openly propagate Jew-hatred and advocate for the destruction of Israel. They promote the racist ideology of Critical Race Theory and the sexist and unscientific doctrine of transgenderism, all while using the iron fist of bureaucracy and speech codes to eliminate all dissent.
It should therefore not be surprising that student organizations and clubs on campus have become little more than vehicles of resentment and hatred directed at our nation, at Jewish students and supporters of Israel, and at the founding principles that are supposed to buttress the universities themselves—open discourse and academic freedom.
The following report names the Top Ten Campus Hate Groups in America. These groups have openly and proudly aimed anti-Semitic libels at Jewish students and organizations. They have praised terrorists and cop-killers as heroes because the ideology of these criminals matches their own. They have endorsed racist policies and principles as a path toward achieving a more just society. They have taken it upon themselves to decide what views are allowable on publicly funded university campuses and which must be shouted down as "hate speech."
Our aim in publishing this report is twofold. First, we hope to expose and reveal the radical hatred that the Left has woven into the fabric of our universities for all the world to see. Second, we demand that the universities named in this report launch investigations into the student organizations and groups named here, to see if their conduct violates federal and university policies. If the universities named herein refuse to take up that burden, we urge state and federal legislators to do it for them.
Our universities have become the cesspit of American society, where bad ideas and rhetoric stew, unhindered by reason, truth, or common sense, while the stench seeps out into our broader culture. Student organizations on campus play a key role in repackaging and rehabilitating failed philosophies like Marxism, Jew hatred, and racism as the shining path to a better future. We must expose and confront the radical ideologies and hatreds simmering within these collegiate organizations to impede their spread beyond the ivory tower.
#1: Georgetown University, Black Law Student Association
The Black Law Student Association (BLSA) at Georgetown University may seem an unusual candidate for a list of campus hate groups, but the association has repeatedly promoted racism and racial preferences for African-Americans and attempts to shut down all discourse that deviates from these positions. The group has also deliberately suppressed free speech and open discussion on campus and has attempted to ruin the careers of several faculty members over comments that signified their opposition to racism.
In January 2022, law professor Ilya Shapiro, who had just been hired as a senior lecturer and to head Georgetown's Center for the Constitution, was placed on administrative leave after he tweeted his opposition to Biden's pledge to select an African-American woman to serve as the next justice on the Supreme Court. Shapiro believed that Sri Srinivasan would be Biden's "best pick" for the Court but noted that "alas [Srinivasan] doesn't fit into latest intersectionality hierarchy so we'll get [a] lesser black woman."
Shapiro quickly apologized for the somewhat inelegant wording of his post and his use of the term "lesser black woman," and clarified that he simply meant that Biden should not let racial preferences guide his decisions on Supreme Court nominees and should pick the best candidate regardless of race. But to the BLSA, his promotion of meritocracy at the highest level of the American judiciary was apparently a racist thoughtcrime. The Black Law Student Association released a lengthy statement calling on the administration "to demand the revocation of [Shapiro's] employment contract and to condemn his racist tweets."
The BLSA statement also made further outrageous and racist demands including "committing to a thorough hiring process that considers incoming faculty and staff's cultural competency" and "reserving a seat for a BLSA representative on every Faculty Appointment Student-Faculty Committee and requiring inclusion of Black students in the hiring for all faculty and staff."
Instead of defending Shapiro's academic freedom, Georgetown Law Dean William Treanor joined the pile-on, condemning Shapiro's tweet as "appalling" and placing the new hire on administrative leave before he was able to teach a single class. The university initiated a four month investigation to determine whether Shapiro had violated Georgetown's diversity and inclusion policies, during which time the professor was entirely sidelined at his new job,
Georgetown reluctantly reinstated Shapiro after the end of the school year and acknowledged that he did not violate Georgetown's absurdly restrictive free speech policies—not because his comments about Biden's Supreme Court nominee constituted legitimate political discourse, but only because he was not yet an official employee of Georgetown at the time of his tweets.
The Black Law Student Association chose this occasion to make additional demands. In a public statement to the administration of the law school, BLSA wrote "to express our outrage, offense, and disheartenment over the Law Center's decision to keep Ilya Shapiro on University staff" and claiming that "The University's decision reinforces that there are no repercussions for demeaning Black women." The BLSA demanded that the University immediately terminate Shapiro for his "committed transgressions against Black Women" and further demanded that all faculty and staff "attend implicit bias training that centers around historically oppressed groups"—that is, reeducation in progressive groupthink.
The BLSA's statement went on to claim that "Georgetown's decision to hire Shapiro is not only wrong, but it puts Black students in harm's way by fostering a community that allows racism to be accepted as conservative." This statement is exactly the opposite of the truth. Shapiro was criticizing Biden's racist decision-making and his pre-determination that the next Supreme Court nominee would be a black woman. It is the BLSA that actively promoted and exercised racism by attempting to fire a law professor for daring to ask that nominees be chosen solely on their professional merits as legal scholars, without consideration of skin color or racial heritage. This racist agenda (disguised as "anti-racism") along with a total disregard of the facts and an abject hostility to free expression and dissenting views is why the BLSA deserves to be known as a hate group.
Nor was Shapiro's persecution the only instance of the BLSA's brutal repression of free expression and commitment to racial prejudices. In a separate controversy occurring in March of 2021, when many classes were still taking place over Zoom, two colleagues, Georgetown Law professors Sandra Sellers and David Batson, were accidentally recorded commiserating on a Zoom call over their experiences grading students.
"You know what? I hate to say this, I end up having this angst every semester that a lot of my lower ones are Blacks," Sellers commented to Batson. "Happens almost every semester and it's like 'oh come on.'"
Sellers added, "I get some really good ones but there are also usually some that are just plain at the bottom, it drives me crazy… so I feel bad."
The video shows Batson nodding his head, possibly indicating agreement, but remaining silent while listening to his colleague.
It was evident from the context that Sellers' comments were the opposite of racist. She expressed her dismay that when assigning grades meritocratically, her African-American students, on average, earned lower grades than those of other races. This is a statement of fact, not evidence of discrimination. Moreover, she was expressing her discomfort at the unfortunate fact that her African-American students are more likely to end up at the bottom of the grading curve. But neither Georgetown nor the Black Law Student Association cared that her comments came from her genuine desire for students of all races to succeed.
The BLSA released a statement which called on the university to fire Sellers without due process. "We demand nothing short of the immediate termination of Sandra Sellers as adjunct professor at Georgetown University Law Center," the BLSA exhorted. "Not suspension. Not an investigation. The University must take swift and definitive action in the face of blatant and shameless racism."
Georgetown Law School Dean Bill Treanor immediately acquiesced to the mob and fired Sellers. For the apparent thought crime of possibly agreeing with Sellers, Professor Batson was placed on administrative leave pending an investigation, and later resigned.
The BLSA statement also twisted and deliberately obscured the intention of Sellers' comments.
"These racist statements reveal not only Sellers' beliefs about Black students in her classes, but also how her racist thoughts have translated to racist actions," the BLSA wrote. "Professor Sellers' bias has impacted the grades of Black students in her classes historically, in her own words."
According to the skewed logic of the BLSA, merely recognizing that African-Americans have historically not performed as well in a law school class, is tantamount to racism and indicates that racism must be at work. No matter how factually accurate the statement may be or the many reasons, including the now-banned use of racial preferences in admissions, why it may be true.
For its promotion of racism and deliberate attempts to censor free expression and tank the careers of those who deviate from DEI orthodoxy, the Black Student Law Association deserves to be recognized as one of the Top Ten Campus Hate Groups in America.
#2: University of Buffalo, Young Democratic Socialists of America
The Young Democratic Socialists of America at the University of Buffalo (part of the State University of New York system), has earned its reputation as a campus hate group. The organization has showcased its vicious mob mentality and hatred towards women and conservatives in the reception it has given two recent campus speakers.
In April of 2023, SUNY-Buffalo welcomed former collegiate swimmer Riley Gaines to campus. During the 2022 season, Gaines tied male swimmer Lia (formerly William) Thomas, who identifies as a transgender female, for fifth place in the women's 200-yards in the NCAA championships. Despite the tie, Thomas was the one presented with the trophy. He also won first place in the Women's 500-yard freestyle event, becoming the first transgender athlete to win an NCAA Division I title. Gaines' experiences competing against Thomas have led her to become a vocal proponent for the cause of protecting the women's category in sports from participation by males.
It is undeniable that men, as a class, have an athletic advantage over women. Thomas's own career illustrates this fact. When competing for the University of Pennsylvania men's team, Thomas was ranked 554th among men in the 200 freestyle. As a woman she placed 5th in the nation.
Despite the clarity of the science, the YDSA at Buffalo chose to protest Gaines' visit to campus and vilified and mocked the collegiate swimmer for standing up for women's rights. Posters for the event dubbed it a "Rally for Trans Liberation." They featured an image of Gaines with literal devil horns adorning her head and called her a "sore loser" and "transphobe." A second poster depicted her as a clown with a white-painted face and a large red nose and the caption "Transphobic Loser" beneath her picture.
During Gaines' speech, protests organized by the YDSA featured students calling Gaines a "sore loser," referring to police officers as "pigs" and chanting, "your hate is not welcome here." They also compared the United States to "1936 Germany" and chanted "Trans Rights are human rights," an odd statement given that it is not clear how acknowledging that transgender "women" are in fact biologically male violates anyone's rights. Students were also caught on video tearing down signs advertising the event.
The YDSA's attempt to humiliate Riley Gaines and to prevent her from speaking at the University of Buffalo, and its efforts to destroy women's hard-fought rights and opportunities in sports, solidifies the group's status as a hate group.
The YDSA also welcomed conservative commentator Michael Knowles to campus with similar venom. Knowles is known for his comment that "Trangenderism needs to be eradicated from public life." While some on the left have characterized his words as a call to kill transgender people, that accusation is ridiculous. "Now I'm not quite sure how one could hear those words and conclude that I was calling to murder all the transvestites because I clearly expressed a special concern for the good for these sexually confused people," Knowles has explained. "Presumably therefore I would not be interested in murdering them. I refer to transgenderism. 'Ism' referring to a doctrine a system a set of beliefs."
Posters created by the YDSA contained a picture of Knowles with a court jester's hat and clown face superimposed on the image. The poster's caption reads "F—k Off Fascists." A second poster stated, "Michael Knowles Not Welcome at UB" and contained an image of Knowles with X's for eyes, typically an indication that an individual is dead. Text below that image read, "All out for hate speech! No tolerance for transphobia!" It is unclear if the poster was meant as a death threat, but that threat is certainly implied.
Nor is the organization's hatred limited to women and those who aim to protect their rights. YDSA has repeatedly promoted Jew hatred by posting genocidal statements aimed at Israel on its twitter account and demonizing the Jewish state. "Israel is an apartheid state that must be dismantled, free Palestine from the river to the sea now and forever," reads one post from May of 2021, an exhortation to destroy the entirety of Israel which lies between the Jordan River and the Mediterranean Sea.
The group has also proclaimed the maxim, "Defund the Police," a policy that if instituted would increase lawlessness and have disproportionate negative effects on America's most vulnerable populations.
For its behavior threatening activists who are attempting to preserve women's rights and its intolerance towards free speech on campus, the UB Young Democratic Socialists of America deserve to be counted among the top campus hate groups in America.
#3: Boston University, Students for Justice in Palestine
The Boston University chapter of Students for Justice in Palestine has solidified its status as one of the premier campus hate groups in America through its spouting of Hamas-fueled propaganda accusing Israel and Jews of murdering Palestinians, its promotion of racism, and its deliberate role in fueling ancient blood libel tropes against the Jewish people.
In July of 2023, Boston U. SJP shared a horrific graphic on its Instagram page which alleges that an "Israeli salad" is made from the blood of Palestinian children. The cartoon image is titled "How to make an Israeli salad" and shows a series of illustrated steps. Step 1 depicts an Israeli soldier kicking in the door of a Palestinian family who are eating dinner. Step 2 shows the same Israeli soldier using his black-gloved hand, with a Star of David featured on the glove, pressing down on the face of a Palestinian child while drops of blood drip off her. Step 3 shows the same black gloved hand planting a small Israel flag on top of a bowl of salad. The horrific imagery evokes centuries-old tropes of Jewish blood-libel which fueled medieval crusades and the more recent Holocaust led by Adolf Hitler.
Nor was that the only occasion on which BU SJP promoted Jew hatred. In March 2023, the campus organization held a series of events promoting "Israeli Apartheid Week," an annual event characterized by anti-Semitic propaganda meant to demonize and delegitimize the world's only Jewish state. Instagram posts made by the chapter falsely claimed that Israel is "a settler colonial project, that utilizes a system of Apartheid to carry out inhumane acts against the Palestinian people, including denial of civil rights, land expropriation, dispossession, and establishment of a dual legal system, all of which are upheld by a system of continuous and historical violence carried out by the Israeli occupation forces." They further promoted "the goal of Palestinian liberation, from the River to the Sea," a genocidal call to annihilate the entirety of Israel which lies between the Jordan River and the Mediterranean Sea. One of the featured events was a speech by notoriously anti-Semitic Columbia University Professor Rashid Khalidi who has repeatedly whitewashed Palestinian terrorism against Israeli civilians.
Another event for Israel Apartheid Week featured Palestinian socialist Sumaya Awad who helped found the Williams College chapter of SJP. During her address, Awad resorted to anti-Semitic tropes to demonize Israel, claiming that, "this whole support we are seeing between the U.S. and Israel is not about fighting antisemitism… it's about money." Awad also told the crowd that Israel has spent millions on American campuses to "spread propaganda" for Israel.
In October and November of 2022, SJP at BU promoted a campaign and protest to "Shut Down JNF" which refers to the Jewish National Fund. The campaign was rife with anti-Semitic language and imagery, including signs stating "From the River to the Sea, Palestine Will be Free," a genocidal slogan promoting the destruction of Israel. The campaign also featured a video which depicted protestors calling for an "intifada," or a violent uprising against Israel—essentially a call for further terrorist violence against Israeli citizens. The language on the graphics also delegitimized and demonized Israel, falsely claiming that Israel had been "stealing land and colonizing Palestine since 1901," and claiming that Zionism was linked to "White Supremacy."
Also in November 2022, BU SJP attempted to shut down a forum that was co-hosted by the Elie Wiesel Center for Jewish Studies on Campus and was titled "Jerusalem: City of Change."  In a mendacious Instagram post that delegitimized Israel, SJP claimed that Israel Antiquieties Authority (IAA), which conducts archeological research in Israel, is guilty of "indigenous antique theft," "revising history," "ethnic displacement," and "settler colonialism." In this instance, SJP was following the lead of Hamas in attempting to deny and obscure the Jews' millennia-long historic roots in Israel.
In March of 2022, BU SJP participated in the annual anti-Semitic hatefest known as "Israeli Apartheid Week." As part of the events for the occasion, SJP hung a banner on campus which stated "End the Deadly Exchange, Free Palestine" alongside the image of an Israeli soldier shooting a Palestinian woman, again invoking blood libel tropes that claim Jews are bloodthirsty monsters. SJP also erected a mock "apartheid wall" on campus (meant to symbolize the security fence that protects Israelis from terrorist attacks). Panels on the wall contained the genocidal slogan "From the river to the sea" with an image the entirety of Israel, signifying the goal of destroying the Jewish state.
In December 2021, BU SJP promoted terrorist violence against Israel by painting the slogan "Long Live the Intifada" on the BU Rock on campus. The two Israeli Intifadas were periods featuring horrific terrorist violence by Palestinians against Israeli citizens. BU SJP also posted a message on social media which demonized Israel, stating," The Intifada is an action that lives within the Palestinian people everyday, and exists as a permanent source of inspiration against Israeli occupation and apartheid."
In May of 2021, SJP at BU released a statement titled "Neutrality is Complicity" that demonized and delegitimized Israel, stating that BU is complicit in "Israel's oppression of Palestinians" and "profit[s] from it" by maintaining a working relationship with the Jewish state. The statement went on to refer to the "Zionist occupation" which it alleged "stands on pillars of terror, racism and lies" and "is anti-democratic to the core." The anti-neutrality principle is a pillar of the BDS hate campaign against the Jewish state in which opponents to Israel's existence refuse to recognize it as legitimate or have "neutral" attitudes toward it.
For its repeated promotion of blood libel tropes against the Jewish people and its exhortation to terrorist violence against Jews and Israelis, Boston University SJP deserves its place among the worst campus hate groups.
#4: Florida State University, Students for a Democratic Society
The Florida State chapter of the proudly socialist organization Students for a Democratic Society is hate-and-censorship fueled vehicle for promoting radicalism on campus.
In April 2022, FSU Students for a Democratic Society (SDS) released a hate-filled anti-Semitic statement claiming that the organization "Stands with Palestine." The statement demonized and delegitimized Israel, claiming falsely that "This month the israeli [sic throughout] occupation has continued to escalate the brutality of its occupation of Palestine and its systematic genocide of Palestinians" and that "Every Ramadan the immoral and illegitimate zionist forces go out of their way to terrorize Palestinians." The statement went on to malevolently declare (all caps in original) that "ZIONISM IS A WHITE SUPREMACIST SETTLER COLONIAL PROJECT, THEREFORE SDS SUPPORTS THE RIGHT OF RETURN FOR ALL PALESTINIAN REFUGEES AND THEIR DESCENDANTS, TO THE HOMES AND LAND FROM WHICH THEY WERE EXILED IN 1947-48 AND AGAIN IN 1967 AND EVERY YEAR SINCE." It concluded by repeating the genocidal slogan, "FROM THE RIVER, TO THE SEA, PALESTINE WILL BE FREE!" which promotes the destruction of all of Israel which is located between the Jordan River and the Mediterranean Sea. The statement also contained a de-facto endorsement of Palestinian terrorism, stating "All across Palestine, the people are rising up against the Israeli occupation. SDS supports their efforts towards national liberation and a free Palestine by any means necessary!"
FSU SDS has also shown its true colors by promoting the cause of their fellow radicals in Tampa Bay who were arrested for starting a violent altercation with police. In March 2023, five members of the Tampa Bay Students for a Democratic Society chapter were arrested on the campus of the University of South Florida for conducting a violent protest and entering into an altercation with police while protesting Florida Governor Ron DeSantis' plan to ban diversity, equity, and inclusion programs at state-funded universities. FSU SDS promoted an August 2023 protest on behalf of the "Tampa Bay 5" at the Leon County Court of Clerks office, claiming that they were arrested merely for "fighting against DeSantis's anti-education bills." The true facts are quite different.
USF police spokesperson Michael Lavalle described how "Despite the attempts of officers to peacefully deescalate the situation and escort the protesters out of the building, several of the individuals then became aggressive and initiated physical altercations with police," adding that one officer was shoved to the ground and suffered minor injuries while other officers were "shoved by protesters." He also described how "protesters hit police with objects, including what officers believe was a video camera and a water bottle, and threw an unidentified liquid at officers." FSU SDS's vehement defense of the Tampa Bay 5 and whitewashing of their clearly violent and aggressive actions illustrates the hatred that fuels the organization.
FSU SDS has repeatedly displayed its hatred and intolerance through its attempts to censor ideas and speakers with whom they disagree.  In November 2021, FSU SDS released a statement demanding that Florida State University cancel a planned speech by conservative and pro-Israel author Ben Shapiro. In addition to promoting censorship of Shapiro's very mainstream conservative views, the statement demonized Israel calling it a "settler-colonial Israeli apartheid state, which has been engaged in the displacement and ethnic cleansing of Palestinians for decades." The statement also defamed Shapiro as a "racist and a "fascist" and exhorted "No fascists on our campus."
SDS also revealed its hateful intolerance of dissenting views, claiming that Shapiro "has affirmed white supremacy by pushing back against 'Critical Race Theory' (in other words a correct telling of U.S. history) and decrying systemic racism as a baseless belief."
When their protest was unsuccessful in halting Shapiro's speech, FSU SDS joined the Hamas-funded hate group Students for Justice in Palestine (SJP) in protesting Shapiro's appearance on campus, shouting anti-Semitic and genocidal slogans such as "From the River to the Sea, Palestine will be Free," "End the Occupation," "Israel is an Apartheid State," and "Israel is a Terrorist State." Shapiro was again called a "racist" and a "fascist."
In October of 2022, FSU SDS also attempted to stop conservative activist and Turning Point USA founder Charlie Kirk from speaking on campus, calling themselves the "Progressive Coalition against Far-Right Platforming" and aiming to halt discourse at their public university. During their protest of Kirk's speech, SDS members chanted the genocidal anti-Israel slogan, "From the river to the sea Palestine will be free."
Florida State SDS also has a habit of valorizing criminals and pedophiles. The group made a post on Instagram commemorating gay activist Harry Hay and idolizing him as someone who "dedicated his life to fighting homophobia, Jim Crow, South African apartheid, antisemitism, and US wars of aggression/intervention." The post fails to mention that Hay was a prominent supporter of the North American Man/Boy Love Association (NAMBLA), a group that promotes the legalization of pedophilia, and that he spoke publicly about supporting relationships between grown men and boys as young as 13 years old.
In a May 1st Instagram post on behalf of International Workers Day, FSU SDS glorified international fugitive and cop-killer Assata Shakur, stating "We can learn from the great Assata Shakur when she spoke on this: No oppressed people have ever won their freedoms through one single person. No oppressed people have ever won their freedoms by asking nicely. It is our duty to fight for our freedom, and it is our duty to win!" Shakur was a member of the Black Panther Party and the Black Liberation Army. In 1973, while already on the FBI's Most Wanted List for her participation in three bank robberies and the attempted murder of two policemen, the car Shakur was in was pulled over by state troopers in New Jersey for a taillight violation. Shakur and her companions fired on the officers, murdering one of the troopers by shotting him in the head execution style twice with his own weapon. This is the woman who FSU SDS holds up as an icon.
Due to its rampant Jew hatred and promotion of terrorist violence, in addition to its attempts to ban dissenting views from campus, Florida State University SDS merits its place on the list of the worst campus hate groups.
#5: Louisiana State University, Cooperation Rouge and the Black Student Union
Louisiana State University is home to a pair of campus hate groups who have entered into a partnership to foment Jew hatred and promote terrorism in the service of radical causes.
Cooperation Rouge at Louisiana State University is an openly socialist and deeply anti-Semitic campus hate group that glorifies terrorists and far-left despots. The organization was founded by student Soheil Saneei who graduated in the spring of 2022. According to an article published on the far-left news site Reckon, "Saneei and his friends founded the campus organization Democracy at Work LSU [later renamed Cooperation Rouge] as a response to activism that seemed more like 'resume builder' activities to some students."
The organization describes themselves in an online bio, stating "We are a student-led organization at LSU that analyzes capitalism critically as a systemic problem and advocates for democratizing workplaces as part of a systemic solution." But that description is only half right. While Cooperation Rouge indeed views capitalism as a systemic problem, it also views any and all far-left revolutionaries as brilliant exemplars, regardless of backgrounds steeped in crime and hatred. The organization also promotes the Hamas party line on Israel, repeatedly describing the world's only Jewish state as an "apartheid" polity guilty of numerous evils.
The Black Student Union at LSU is a less obvious candidate for a campus hate group. The organization claims to "represent the interest of the Black student populace at all times emphasizing political, community, social, and educational concerns while promoting the general welfare of the Black student populace" but has frequently partnered with Cooperation Rouge and other anti-Semitic organizations to promote Jew hatred.
In May of 2021, Cooperation Rouge published a letter that was signed by 11 other organizations, including the Black Student Union (BSU) promoting the genocidal Boycott, Divestment, and Sanctions (BDS) movement against Israel and charging Israel with "ethnic cleansing" and "war crimes." The letter quotes holocaust-denier Normal Finkelstein and Black Panther Party arms-dealer Angela Davis (described as a "philosopher") to promote the view that Israel is an illegitimate "apartheid" state that should not exist.
That same month, Cooperation Rouge and BSU again collaborated to promote Jew hatred. The two organization released a joint statement urging the School of Engineering at LSU to cease its collaboration with Israeli energy institutions. The statement openly promoted the genocidal and Hamas-endorsed Boycott, Divestment, and Sanctions (BDS) movement against Israel, claiming that "Since its violent establishment in 1948 through the ethnic cleansing of more than half of the indigenous people of Palestine, Israel has set out to control as much land and uproot as many Palestinians as it can" and asking that "adjacent organizations at LSU who are committed to human rights and justice to join the Boycott, Divest, Sanction movement."
BSU also worked with Cooperation Rouge and the LSU chapter of Students for Justice in Palestine to organize a "March for Palestine" which was used to delegitimize and demonize Israel and promote anti-Semitic propaganda. An Instagram post from BSU showed images of members with posters expressing support for BDS as well as genocidal sentiments including "From the Land to the Sea, Palestine will be Free," "Stop Global Colonialism, Free Palestine," "Boycott Israel, Free Palestine," and "Stop the Genocide in Gaza." The caption for the post stated, "BSU and ten other organizations have signed a participate in the BDS campaign. This campaign is a boycott against companies who exploit and support the occupation of Palestinians. When Palestine is free, we all will be free. Thank you all for coming to the March on Friday. #freepalestine."
Cooperation Rouge founder Saneei also helped to push a pro-BDS bill through the student government at LSU in the spring of 2022. The bill targeted Israel specifically, referring to it as "Occupied Palestine," a form of delegitimization that constitutes Jew hatred. In a twitter post from May 2021, Cooperation Rouge equated Zionism with white supremacy, stating, "We wanted to highlight Zionism's allegiance to white supremacy, making the connection b/w Israel supporting apartheid in South Africa, White supremacist colonization of South Rhodesia, and Israeli's commitment to arm and train with police in the United States."
The radical campus organization also has a penchant for promoting criminals, terrorists, and dictators—just so long as their politics lean to the far-left.
In a March 2022 Instagram post in celebration of International Women's Day, Cooperation Rouge praised several women "that have had a tremendous influence on us."  These celebrated icons included Black Panther Party member Angela Davis who supplied weapons to Party members which were used to kill a Marin County judge as well as convicted terrorist and airplane hijacker Leila Khaled.
In May of 2021, Cooperation Rouge posted a Happy Birthday message for Maurice Bishop, a Grenadan revolutionary and leader of the Marxist-Leninist New Jewel Movement. The post praises Bishop as "the 2nd Prime Minister of Grenada" and states that "Under his leadership, Grenada had introduced free public health, illiteracy dropped from 35% to 5% and unemployment went from 50% to 14%."  What this laudatory propaganda fails to mention is that Bishop seized power in a coup while Grenada's actual Prime Minister was attending a meeting of the United Nations in New York, and that upon obtaining power he proclaimed a People's Revolutionary Government, and suspended the nation's constitution.  Bishop was killed several years later by his own deputy.
Cooperation Rouge also honored Guinean dictator Sèkou Tourè with a post in commemoration of "#AfricanLiberationDay."  Ironically, Tourè's version of liberation involved outlawing all political parties other than his own and imprisoning or exiling opposition leaders. Tourè's regime was known for "tyranny and torture on a daily basis" by those who fled it and it is believed to be responsible for the deaths of at least 50,000 during his time in power.
In May 2021, Cooperation Rouge wished a happy birthday to philosopher Karl Marx, the co-author of The Communist Manifesto, and a man whose writings are responsible for untold starvation and death over the last century. Calling him a "timeless philosopher," the organization claimed that the financial crisis of 2008 proved that "the continuation of the boom and bust cycle and the acceleration of globalization we see today once again made all of Marx's writings relevant again."
In February 2021, Cooperation Rouge posted on Instagram in honor of El-Hajj Malik El-Shabazz, otherwise known as Malcolm X, quoting him as saying "In short, the Zionist argument to justify Israel's present occupation of Arab Palestine has no intelligent or legal basis in history." The quote undeniably delegitimizes and demonizes the Jewish state, as well as denying the Jewish people's deep historic connection to the land of Israel, all forms of Jew hatred. Malcolm X was known for his ardent anti-Semitism and his racism towards non-blacks.
The organization also posted in honor of Huey P. Newton's birthday. The founder of the Black Panther Party, Newton was a drug dealer, racist, and murderer. Nonetheless, Cooperation Rouge saw fit to honor him, stating that "his theories are vital in understanding how a revolution can be carried out in the modern U.S."
Cooperation Rouge publishes a newsletter titled "Cooperades." The newsletter's slogan, "Slaying the Paper Tiger," originated with Communist Leader Mao Zedong, responsible for the deaths of approximately 60 million during his "Great Leap Forward."  Mao used the expression to refer to his political enemies, and particularly to the United States.
Cooperation Rouge has made a name for itself at LSU as an anti-Semitic, pro-terrorist, and pro-authoritarian hate group. Meanwhile, the Black Student Union has sullied its reputation by partnering with Cooperation Rouge to promote Jew hatred. Both organizations deserve to be named among America's worst campus hate groups. 
#6: University of New Mexico, Southwest Solidarity Network
The Southwest Solidarity Network (SwSN) describes itself as an "a network of leftist 2Spirit, Queer, and Trans youth protecting our ancestral homelands via direct action," but in reality the group launches violent protests targeting mainstream conservatives as "fascists" while demanding that the University of New Mexico censor views that differ from their own radical philosophy.
When Charlie Kirk, founder of the conservative student activist organization, Turning Point USA, came to speak on campus in December of 2022, he was met by a vicious mob organized by the Southwest Solidarity Network, who were determined to censor his remarks by any means necessary.
"Charlie and his rhetoric are NOT welcome on our campus," SwSN declared on Instagram. "Join the greater UNM community on Wednesday, November 30th as we show Charlie and Turning Point that their hateful rhetoric is NOT welcome at UNM. This is a NOISE DEMO – bring drums, instruments, speakers, pots, pans, anything to drown out Charlie's bullshit."
The organization went out of its way to be clear that it would not place any limits on protestors' actions or violence. "We will NOT be policing how our protesters decide to express their emotions. You have every right to be upset. You have every right to be fucking pissed," stated the message. "You pay upwards of $10,000 a semester to fund these facilities. Hold these people accountable."
The Instagram post was accompanied by an image of Kirk in a red circle, with three red arrows crossing out his face. "Fuck Charlie Kirk and Fuck Turning Point" was stated in large red letters below the image.
According to an article by Source MN, SSN's "goal for the evening was to drown out Kirk's speech outside the building, and have a continued presence against the organization and speakers, to 'let them know that we won't allow that. That we're going to be against it. And we're going to come out every time. And we're going to make some noise.'" The article describes the extreme lengths the protestors went to in order to make sure that no one could hear Kirk's address. "At UNM, a crowd started gathering outside the Student Union Building around 5 p.m. intending to drown Kirk out with sound — blasting music, banging pots and pans, drumming on buckets and chanting."
"A large group of university students mixed with black-clad ANTIFA members chanted, 'blood, blood, blood is in their hands,' while holding signs that read 'Shut Down White Supremacy,'" TPUSA's website described. "Attendees of the event were trying to make their way into the building but struggled to walk through the large mass of angry protesters."
The demonstrations got so heated that campus police "enlisted the help of New Mexico State Police in riot gear to detain three people, including one UNM student," according to local news station KOB Channel 4. Kirk's appearance on the UNM campus had already been postponed once due to concerns about protests. This time, despite the violent mob outside, he and the local Turning Point USA chapter were determined to proceed.
Nor was SwSN's animosity limited to Kirk himself. In a "Call to Action" posted on Instagram in December of 2022, SwSN urged "The UNM President and the Board of Regents to Revoke the Charter of Turning Point USA at UNM."  A comment on the post added, "Tell them that Hate Speech and dangerous misinformation has no place on our campus." The organization seemed not to realize that its own vitriol directed at Kirk and Turning Point USA is clearly laced with hatred and fueled by the desire to censor dissenting views.
A similar mob organized by SwSN was there to greet conservative commentator Tomi Lahren, when she too dared to set foot on the far-left campus. But in Lahren's case, the mob succeeded in shutting her speech down and forcing her to flee for her own safety.
"An organized hate group broke into the auditorium to chant 'F**k Tomi Lahren' in the room in which she spoke," described Outkick.com, the media organization that hosts Lahren's talk show. "As the rioters banged on the door, Lahren, her father, and members of the TPUSA chapter had to barricade themselves in a back room as campus police called for backup."
"These thugs who terrorized @TomiLahren's @TPUSA event in New Mexico are Domestic Violent Extremists. Where is the FBI? I thought they were committed to tracking down and bringing DVEs to justice?" Turning Point USA founder Charlie Kirk tweeted in response to events at the university.
"We had a couple of campus PD officers. That was it," Lahren told The College Fix, describing how underprepared UNM was to defend free speech in the face of student protestors. "They did not call Albuquerque police. They didn't call the New Mexico police. They were completely unprepared and quite frankly, didn't care. Even after we were in the room, and these protesters that were let into the student union and were banging on the door trying to bust in the door to attack me and the speech goers — the university still did nothing."
Lahren told Fox News Digital she "would not have gotten out of there" without the aid of additional law enforcement agencies.
Following the protests against Lahren, the Southwest Solidarity Network openly mocked TP USA students who "'feared for their lives' following our Tomi Lahren protest" and accused those students of "communicating with a 'multi agency task force' that is 'passively and actively surveiling' activists."
"As always," continued SwSN in its post, "We remain committed to NOT ASSISTING law enforcement in disrupting, surveiling, or infiltrating social movements."
The hatred that Southwest Solidarity Network displays towards conservative activists and law enforcement is matched only by the group's abject ignorance. "Homophobia and Transphobia doesn't exist in Indigenous cultures – they are symptoms of the white supremacist invasion of our homelands," the group claimed in a particularly clueless post on Instagram. On another occasion, SwSN demonstrated its hatred and bigotry towards Christians by reposting a comment from "N8 Raia" which stated "The biggest danger of taking your child to a drag show is that a Christian could show up with a gun."
For its hatred and bigotry toward conservatives and Christians and its penchant for violence and censorship, the Southwest Solidarity Network deserves to be known as one of America's worst campus hate groups. 
#7: San Francisco State University, General Union of Palestinian Students
San Francisco State has a well-deserved reputation as one of the epicenters of anti-Semitism in American academia and the General Union of Palestinian Students can be credited with a decades-long run as one of the premier campus hate groups in America.
GUPS made national headlines in 2014 when the organization's president, Mohammad G. Hammad, was exposed as having written a number of threatening social media posts describing his wish to attack students, teachers and Israeli soldiers and to ally himself with anti-Israel terrorists including the Popular Front for the Liberation of Palestine (PFLP). Hammad's posts included a photo of himself holding a large knife with the caption: "I seriously cannot get over how much I love this blade. It is the sharpest thing I own and cuts through everything like butter and just holding it makes me want to stab an Israeli soldier…."  In other posts he stated, "I think about killing a lot.  And some of you are usually the targets of my daydreams J." and "You know what?  Israelis ARE colonizers, there is literally no way around it. And you know what else?  My heroes have always killed colonizers. I literally see nothing wrong with this. And my only regret is that not all colonizers were killed."
In response to a person who asked, "how can I help actively support Palestine," Hammad responded "Buy a keffieyh. Learn to tie it around your head…get in touch with some PFLP militants or arms dealers in the West Bank. Learn IDF patrol routes…BOOM." In another post he stated, "Let's play a game. Objective: Kill U.S. Soldiers. Goal: world peace." Other posts declared: "The number of times I have legitimately considered flying back to the Middle East and joining the armed wing of the PFLP or something is surprisingly high"; "I think about the time I tried to be – moderate – and advocate for non-violence and honestly I just want to go back in time and slit my own throat/and then the throats of all my enemies before they grow up into the shits they are today"; "Oh/And tomorrow is [hopefully] the day that I find out if I will be the President of the General Union of Palestine at my school/…Hopefully I'll be able to radicalize half of our population and bring them back with me as fighters."
After Jewish groups and the media exposed his postings, Hammad eventually left campus and was placed under investigation by the Joint Terrorism Task Force and the FBI.
While GUPS may now claim to disown the terrorist rantings of their former president, Hammad's words and inclinations live on in the organization's adamant hatred and its continual promotion of terrorism and genocide against the Jewish people and their homeland of Israel.
It is no coincidence that the organization's former faculty advisor—who served as such during Mohammad Hammad's tenure as president—is none other than Professor Rabab Abdulhadi, the public face of SFSU's Jew hatred.  Abdulhadi is a rabidly anti-Semitic professor of Ethnic Studies who also heads SFSU's Arab and Muslim Ethnicities and Diasporas Initiative (AMED). AMED has sponsored an event at which posters asserted, "My Heroes Have Always Killed Colonizers," referring to Israel's Jews—echoing the violent posts made by former GUPS president Hammad. Abdulhadi has glorified anti-Israel terrorism in public talks and has hosted online events featuring Palestinian terrorist Leila Khaled, whom Abdulhadi reveres as a hero.
GUPS is no less vocal in its praise for radical Islamic terrorists. The Canary Mission, an organization devoted to tracking and exposing anti-Semitism, lists numerous examples including:
As part of PAW, GUPS SFSU promoteda talk by Ahmed Abu Artema, one of the organizers of the 2018 "Great March of Return," violent demonstrations by Hamas supporters against Israel.During the demonstrations, close to 30,000 Palestinians approached Israel's Gaza border, shooting explosives and firearms into Israel, throwing rocks and attempting to breach the border fence.
In 2021, GUPS SFSU co-sponsored"Israel Apartheid Week," including a lecture on the Palestinian "right of return" (a recognized means to destroy Israel). Addameer, a group that agitates for the release of Palestinian terrorists from Israeli prisons, participated in another lecture.
The more recent history of GUPS shows no moderation of their anti-Semitic, pro-terror beliefs. In April of 2023, GUPS at SFSU held "Palestine Awareness Week" on campus, which as the Canary Mission has noted, is an attempt to relabel "Israel Apartheid Week." Online banners for the event contained a series of Hamas propaganda maps purporting to show Israel's colonization and total takeover of "Palestine." The Week also featured "BDS and Palestine Jeopardy" to promote the genocidal Boycott, Divestment, and Sanctions movement against Israel.
For its long history of openly promoting terrorism and Jew hatred, the General Union of Palestinian Students at San Francisco State University deserves to be named to the list of the top campus hate groups in America.
#8: University of Michigan, Students Allied for Freedom and Equality (SAFE)
Students Allied for Freedom and Equality describe themselves as "a coalition of diverse members dedicated to advancing the causes of freedom, justice, human rights, and equality for all peoples." The group's "foremost objective," according to a description on the University website, "is to promote the right of self-determination for the Palestinian people and advocate for justice for Palestinians on campus and globally." These seemingly laudable aims, however, come paired with a dose of genocidal hatred directed toward the Jewish people and their homeland of Israel. SAFE on multiple occasions has publicly demonized Israel, repeated anti-Semitic blood libel tropes against the Jewish people, and promoted the Hamas-funded BDS movement which aims to economically isolate and destroy the Jewish state.
In February of 2023, SAFE held "Palestine Awareness Week" (formerly called "Israeli Apartheid Week") on campus. The 12-day hatefest featured ads promoting Palestinian terrorism including the statement "Power to our Freedom Fighters, Glory to our Martyrs," a clear reference to the suicide bombers who have killed Israeli civilians.
One of the events featured by SAFE during the designated week was titled "Palestinian Women and Mothers – Female Freedom Fighters and the Vilification of the Palestinian Womb." Ads for the event demonized and delegitimized Israel (blatant forms of anti-Semitism), claiming that Palestinian women are "weaponized and villainized given that they produce a population that is viewed as a direct threat to the existence of the apartheid state."
Bayan Abusneineh, who serves as a Provost's Fellow in the Department of Women's, Gender and Sexuality Studies at the University of Michigan, referenced ancient anti-Semitic blood libels during her speech at the event. She claimed falsely that "Israeli politicians have openly called for the murder of Palestinian women, prevent them from giving birth." She also stated that "[I]n precipitating the flight of Arab villagers from Palestine… they butchered young girls and women, Palestinian women" and went on to describe "an incident" where allegedly "two Palestinian pregnant women, whose stomachs were essentially cut, literally cut, and in one case a fetus was being axed, so some very graphic, horrific, image at this time."  Abusneineh called this horrific crime a "literal symbol" of Israel, describing how for the Palestinians "literally [that] of your child is a threat to the nation, that Palestinians are not imagined to be part of this space… we can't just understand it through these forms of violence, but it's integrated through Israeli's laws, policies, and architecture." It is no coincidence that Abusneineh's words echo medieval claims that Jews drank the blood of gentiles and Muslims, claims that were used as justification for the mass slaughter of the Jews.
Also in February of 2023, SAFE released a statement to the "University of Michigan campus and the community at large" which it also encouraged other groups on campus to sign. The anti-Semitic statement demonized and delegitimized Israel, claimed that anti-Zionism is not anti-Semitism, and preached "Long Live the Intifada," a call for a return of terrorist violence against Israel.
In January of 2023, SAFE protested a visit by Vice President Kamala Harris to campus, because, in their words, "The Biden-Harris administration has unwaveringly stood with Israel, an apartheid entity that has caused immense ecological destruction as it continues to commit crimes against humanity." Signs and slogans at the event openly promoted genocidal hatred against the Jews. Specific chants included, "Justice is Our Demand, No Peace on Stolen Land," (a lie meant to delegitimize Israel), "Intifada, Intifada, Long Live the Intifada," (a call for terrorist violence against Israel), "From the River to the Sea, Palestine Will be Free" (a genocidal call for the destruction of the entirety of Israel), "Kamala, Kamala, you Can't Hide, You're Committing Genocide" and "Not another nickel, not another dime, no more money for Israel's crimes."
In September of 2022, Students Allied for Freedom and Equality (SAFE) again praised anti-Israel terrorists as heroes. The group built a 36-foot long, eight-foot tall mock "apartheid wall" on campus. Statements on the wall included demonizing and delegitimizing slogans such as "We Will Return," "Land Theft Over the Years," and "End Israeli Apartheid." Other writings were even more obvious in their promotion of terrorism, stating, "Power to our Freedom Fighters, Glory to Our Martyrs [ the panel included an image of convicted terrorist and hijacker Leila Khaled with a gun]."
In June 2021, the executive board of SAFE released an open letter to the campus community which claimed to "confront the University of Michigan's failure to condemn Israeli state-sanctioned violence against Palestinians in recent weeks." The letter demonized Israel, repeated blood libels against the Jewish people, and promoted the Hamas-funded BDS movement which aims to economically isolate and destroy the Jewish state. The letter claimed "that the Nakba never ended, and that settler colonialism, occupation, and ethnic cleansing in Palestine persist" and that "Israeli violence escalated in Jerusalem in an effort to continue a centuries' old ethnic cleansing campaign." It also urged the administration to "End all University-sponsored trips to Israel," a form of academic BDS. The letter was signed by 23 student organizations and hundreds of individual students.
In May 2021, the University of Michigan student government issued a press release that was signed by SAFE as well as the Arab Student Association and the Muslim Students Association titled "To our Palestinian friends and the U-M community at large." The press release demonized Israel by echoing Hamas propaganda and promoting the Hamas-funded BDS movement. The release claimed that "the actions of the Israeli occupying forces throughout Palestine are inhumane, international war crimes" and that "This is not a 'conflict,' but emblematic of Israeli settler- colonialism, ethnic cleansing, and apartheid."
Jewish students who criticized this one-sided student government statement were met with anti-Semitic slurs including "nose check," "Zionist pigs" and "Israel apologists."
So central is Jew hatred to SAFE's philosophy, that a pro-Israel student on campus reported that members of the group "adhere to a strict 'non-normalization policy,'" which means they "will not even shake hands with pro-Israel students."
For its blatant Jew-hatred, promotion of speakers who spread despicable conspiracy theories about the Jews, and incitement to terrorist violence against Israel, SAFE at the University of Michigan deserves to be listed among America's worst campus hate groups.
#9: University of Chicago, Students for Justice in Palestine
The University of Chicago has become one of the most ardent promoters of Jew hatred among American campuses, and the campus chapter of Students for Justice in Palestine is leading the charge.
In recent years, U. Chicago SJP has focused its energies on promoting a student boycott of so-called "sh-tty Zionist classes." In January 2022, SJP's chapter at the University of Chicago posted on Instagram encouraging students to "support the Palestinian liberation by boycotting classes on Israel or those taught by Israeli fellows." The header for the post used obscene language to characterize supporters of Israel, stating, "Don't Take Sh*tty Zionist Classes." The content of the post also demonized Israel, claiming that it is an "apartheid state" which "dehumanize[s] indigenous populations and justif[ies] their violent seizure of land." The boycott campaign is an echo of the genocidal Boycott, Divestment, and Sanctions (BDS) movement targeting Israel and seeking to annihilate it.
The connections between Chicago SJP's boycott campaign and the wider BDS movement were underscored by an opinion piece published by an SJP member in The Chicago Maroon titled "We Should Join SJP's Boycott of Zionist Classes." The piece promoted the academic boycott of Israel, an offshoot of the Hamas-inspired BDS movement against Israel. The piece also demonized Israel, stating that "Classes that normalize the foundation of an apartheid regime on the exclusionary basis of other ethnicities and identities are racist. Calling out these classes is not."
In January 2023, SJP at U. Chicago launched yet another boycott campaign, this one centered on a course being taught by an Israeli military general, Meir Elran, calling it "the sh*ttiest, most racist class of them all" and urging students to boycott the class. The organization also published an op-ed in the Chicago Maroon which demonized Israel as an "expansionist apartheid state predicated on the ethnic cleansing and theft of Palestinian land" and utilized medieval blood libel tropes against the Jewish people by claiming that the world's only Jewish state is guilty of "biological warfare against Palestinian civilians," the "torture of Palestinian children" and of "periodically massacring the Palestinians it holds captive in the Gaza Strip."
Throughout the 2022-2023 academic year, SJP continued to harass General Elran and the students who dared to defy their boycott of his course. The group launched an "IsraeliMilitaryOffOurCampus" campaign which included taping flyers to the doors of Elran's classroom containing malicious false statements accusing Israel of various human rights violations including, "Israel deprives Gazan children of access to clean water in the name of 'COUNTER TERRORISM';" "Israel tortures Palestinian children in the name of 'COUNTER TERRORISM';" "Israel denies Palestinians access to e-saving medical treatment in the name of 'COUNTER TERRORISM';" "Israel routinely massacres Gaza's civilian population in the name of 'COUNTER TERRORISM';" and "Israel demolishes Palestinian homes in the name of 'COUNTER TERRORISM.'"
SJP members also held a theatrical "die-in" on a public walkway on campus, again demonizing Israel by claiming "We oppose the university's decision to host a former Israeli general to teach a racist, Zionist course which contributes to the ongoing Nakba of the Palestinian people."  The term "Nakba" is Arabic for "catastrophe" and is used by Israel's enemies to describe its founding and imply its illegitimacy.
The University of Chicago chapter of SJP has also used its influence to openly promote terrorism against the Jews and Israel. In November 2021, SJP at U. Chicago published an art zine titled "Cheers to Intifada."  The zine promoted terrorism against Israel and contained violent imagery including a graphic of two lit Molotov cocktails raised in a toast under the heading "Cheers to Intifada." The zine was also rife with anti-Semitism including an image of a pig wearing a policeman's hat with a Jewish star on it. Poems in the publication promoted ancient blood libel tropes against Jews such as one describing a Jewish teenager who held Palestinians captive and had "animalistic lust yearning to rape bodies."
The U. Chicago chapter of SJP has also used its influence within the student government at the University to pass anti-Semitic resolutions demonizing Israel and by extension the Jewish people.
In May 2021, the student government at the University of Chicago published a statement supported by SJP that claimed to "stand against the ideology of Zionism" and using genocidal language against the Jewish people, stating "from the river to the sea, USG supports a Palestine that is free," implying that all of Israel should be destroyed. The statement additionally demonized Israel, claiming that the "ideology of Zionism" has been "used as a justification for murder, displacement and traumatization of Palestinian people," and openly supported the terrorist-inspired BDS movement against the Jewish state. Jewish groups on campus later noted that a Jewish student government representative and Jewish groups on campus were excluded from discussions on the resolution before it passed, as a result of SJP's insistence that if they were allowed to participate in the discussions, they would "view this [Israel] as religious conflict, not apartheid."
On the night the statement was released, a group of Jewish students returning from a religious service was threatened by a passing motorist who "repeatedly yelled out 'F*ck Jews.'"
For its insistent harassment of an Israeli professor on campus, its promotion of terrorism against Jews and Israel, and its repeated support for the genocidal BDS campaign, SJP at the University of Chicago deserves to be known as one of America's worst campus hate groups.
#10: University of Wisconsin-Madison, Young Democratic Socialists of America
The UW-Madison chapter of the far-left group, Young Democratic Socialists of America (YDSA) claims to be "fighting for a just, equal, and socialist society" but the group instead thrives on hateful rhetoric directed at conservatives and Jews and openly promotes censorship of dissenting viewpoints.
When conservative talk show host Matt Walsh came to speak on campus in October of 2022, UWM YDSA smeared the mainstream conservative and father of six as a "transphobic fascist" and circulated a petition demanding that the University cancel the event because Walsh is "a danger to the students and ideals of UW-Madison."  Walsh is openly critical of the bizarre idea that humans can change their biological sex and produced a film titled "What is a Woman?" that revealed the utter nonsense spouted on this topic by transgender activists.
Social media posts by the YDSA included a picture of Walsh with the heading, "Warning! Transphobic Fascist on Campus" and blamed him for "death threats against doctors nationwide and multiple bomb threats against Boston Children's Hospital." Such hateful rhetoric is undeserved. Far from threatening anyone, Walsh has stood for the safeguarding of children. He has exposed and publicized the drugging and mutilation performed on children as "gender affirming care," resulting in more than one medical center removing information from their websites.
UWM YDSA again promoted censorship when the group shared a post on behalf of the YDSA chapter at the University of Minnesota, objecting to a planned speech by Supreme Court Justice Amy Coney Barrett on the UMN campus. "Keeping Amy Coney Barrett off Campus!" declared the post which claimed that "Inviting ACB to our school contradicts the University's supposed values."
The socialist organization has also repeatedly invoked anti-Semitic language and tropes and sided with campus organizations who promote terrorism against the Jewish homeland of Israel.
On the first day of school in September 2022, horrific anti-Semitic chalkings appeared across the UW-Madison campus. Messages included "Zionism is Racism," "Zionism is Genocide," and "There are 5 Zionist Orgs at UW, They Have Blood on Their Hands," invoking medieval blood libel tropes that have been responsible for the mass slaughter of Jews throughout history. The chalkings specifically denigrated Jewish organizations including Hillel, Chabad, Badger Alliance for Israel, J Street, and TAMID.
University administrators took the rare step of condemning the anti-Semitic chalkings. "[The chalkings] went beyond political views about Israel and Zionism and included antisemitic statements that wrongly and unfairly ascribed actions and beliefs to our Jewish students based on their participation in Jewish student organizations," said UW-Madison Chancellor Jennifer Mnookin in a statement.
Instead of condemning the obvious message of Jew hatred contained in the chalkings, UWM YDSA shared multiple posts on social media condemning the University's response and doubling-down on the anti-Semitic message by delegitimizing and demonizing Israel. "The coordinated University and media backlash against the anti-Zionist (read: anti-colonization) chalkings in September sent the message that not only does UW stand against Palestinians and with their colonizing oppressors, but also that even the slightest visible dissent in favor of oppressed peoples will be met with swift and unrelenting condemnation—an intimidation tactic meant to scare allies and other marginalized voices from speaking out in meaningful ways against their oppression."
A second post from the YDSA includes pictures of the anti-Semitic chalkings alongside far-left radicals and criminals such as Angela Davis and Che Guevara. The caption reads: "What do you think these revolutionary leaders would say about UW Madison?"
UWM YDSA also shared a post from the U.S. Palestinian Community Network which honored the Palestinian suicide bombers who terrorized Israel during the second Intifada, stating, "On the anniversary of the second #Intifada, we honor our martyrs with this beautiful show of solidarity all the way from South Africa with Palestinians and in particular, with our fight as students against the zionists at the University of Wisconsin-Madison @uwmadison and in our community." The message went on to again attack the UW-Madison administration for its condemnation of the anti-Semitic chalkings.
For their tyrannical opposition to conservative speakers and their venomous Jew hatred, the Young Democratic Socialists of America at the University of Wisconsin-Madison deserve their spot on the list of America's worst campus hate groups.