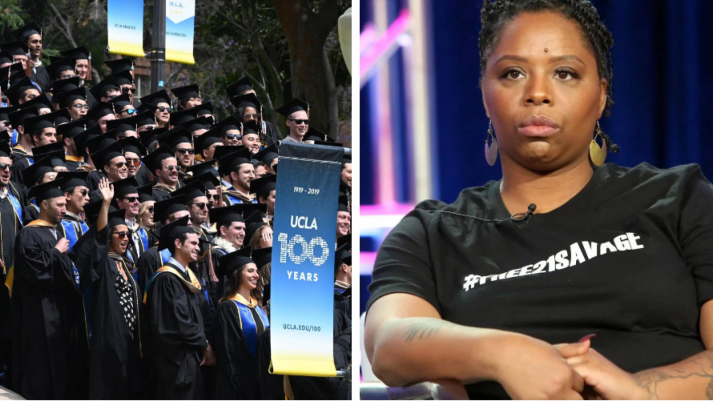 "Patrisse Cullors, co-founder of the Black Lives Matter movement, will deliver the 2021 Commencement address for the UCLA Luskin School of Public Affairs," the prestigious UC campus announced back on March 30. According to UCLA dean Gary Segura, "Patrisse Cullors is at the heart — and the foundation — of a movement for human rights, social change and genuine equality under the law." So Patrisse Cullors "is the ideal person to deliver a message of mission to our 2021 graduates."
What Cullors told the graduates in her June 11 virtual address is hard to find. On the other hand, the Black Lives Matter co-founder drew attention for her 2015 statement at Harvard Law School that "Palestine is our generation's South Africa, and if we don't step up boldly and courageously to end the imperialist project that's called Israel, we're doomed." As it happens, a call to abolish the state of Israel is not out of step for UCLA.
Under "Vice Chancellor for Equity, Diversity and Inclusion" Jerry Kang, UCLA became a safe haven for Jew-hatred.  Groups such as Students for Justice in Palestine (SJP) and Boycott Divestment and Sanctions (BDS) enjoyed free reign – and even encouragement – by faculty and administrators. The strongest response to this hatred came not from within UCLA but  from "outside provocateur" David Horowitz.
Posters reading "Students for Justice in Palestine" and "#Jew Haters" began appearing at UCLA. Horowitz called on UCLA to remove campus privileges and funding of SJP because they are a hate group and as such violated UCLA's "Statement of Principles Against Intolerance." On April 19, 2016, Jerry Kang responded with a letter to the entire UCLA community.
"Back in November 2015," Kang wrote, "someone put up hostile posters accusing two student organizations – the Muslim Student Association (MSA) and Students for Justice in Palestine (SJP) – of being murderers and terrorists." These were posted anonymously but "an outside provocateur named David Horowitz eventually took credit." This harkened back to the days when reactionary administrators blamed "outside agitators" for activism they didn't like.
As the provocateur explained in a letter to Kang, the posters targeted only Students for Justice in Palestine, not the Muslim Students Association. The posters did not accuse SJP of being murderers and terrorists. Horowitz described them as Jew haters "because they support the murderers and terrorists of Hamas, which they do."
Another poster campaign, "Stop the Jew Hatred on Campus," listed names of UCLA student and faculty activists who support SJP and BDS. Kang called it intimidation but as Horowitz explained, "there is no intimidation on the posters, just a list of names" and the posters did not cast those listed as murderers and terrorists, only supporters of the BDS boycott campaign. Those bewildered by the behavior of a once-great university might also consider the UCLA campaign against professor Keith Fink.
As a UCLA student, Fink won three consecutive National Collegiate Debate championships. The debate champiion went on to complete law school then in 2008 returned to teach in the UCLA communications department.  In that role he proved popular with students, particularly on the subject of free speech. For Fink, the entire country was a free-speech zone, including the UCLA campus. UCLA bosses responded by restricting access to Fink's classes.
Jewish students Negeen Arasteh and Shahab Naimi sought out Fink's classes because he is "one of the best teachers at UCLA," according to Naimi, a pre-med student. Both took Fink's popular "Sex, Politics and Race: Free Speech on Campus," but new department chair Kerri Johnson denied them credit for the course.
Department bosses rigged Fink's classroom evaluation with false statements and phony letters accusing him of being a racist and sexist, one from a student who did not even know the professor. Not a single administrator reached out to Fink with support, but the students had his back. As the Daily Bruin reported, one group held a campus demonstration holding posters reading "Good grief keep Keith" and "Free speech is under attack," as they chanted "Rethink, keep Fink." UCLA didn't.
In 2017, Interim dean of Social Sciences Laura Gomez, declined to renew Fink's contract, for reasons that were never entirely clear. Fink filed a grievance and one year later, "UCLA has been uncooperative with the conservative professor's attempts to receive the documents relating to his termination." The next year, UCLA marked the anniversary of a different battle.
On January 17, 1969, the Black Panthers and the US organization shot it out in room 1201 of Campbell Hall. The battle claimed the lives of Panthers John Huggins and Alprentice "Bunchy" Carter. The US group, meant "us," black people, but the Panthers derided them as "United Slaves," black nationalists founded by Hakim Jamal, formerly known as Allen Donaldson and a cousin of Malcolm X. The groups were at odds over control of Black Studies, which endures along with Chicano Studies and other non-disciplines.
Since then, the UCLA campus has hosted protests on the Vietnam war, nuclear weapons, apartheid, U.S policy in Central America and so forth. The only unwelcome protesters were those challenging Jew-hate and calls for the abolition of Israel. Patrisse Cullors, who wants to "end" Israel, becomes "the ideal person to deliver a message of mission to our 2021 graduates." Students, parents and all citizens need to become provocateurs against this hatred.