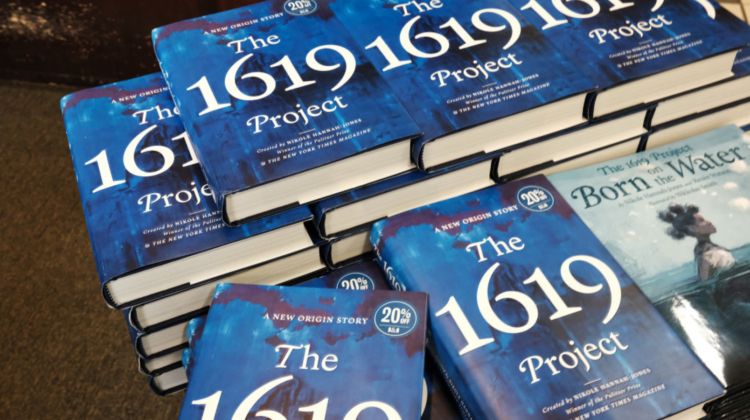 Many people have become aware of how Mark Zuckerberg's [Center for Technology and Life](https://imprimis.hillsdale.edu/zuckerbucks-2020-election/) nonprofit foundation influenced the 2020 elections.
But few are aware of how his company, Meta, and other far-left companies are also underwriting 1619 Project educational indoctrination programs for future voters. Taxpayers help subsidize these efforts. Those who profit are the world's largest publisher, Penguin Random House, and the global media company, the _New York Times_, whose newspaper has the second-highest [circulation](https://agilityprstage.wpengine.com/resources/top-media-outlets/top-10-daily-american-newspapers/) in the nation.
The New York Times, a for-profit company, had its product promoted by a nonprofit company, the Pulitzer Center, which designed the prepackaged curriculum and pushed it, unvetted, into 3,500 schools immediately after the 1619 Project was published as a special issue of the August 18, 2019, _New York Times Magazine_. Coincidentally, [Sam Dolnick](https://pulitzercenter.org/people/sam-dolnick), _New York Times_ assistant managing editor, sits on the board of the Pulitzer Center. The Pulitzer Center also posts promotional materials, such as editor [Jake Silverstein](https://1619education.org/blog/1619-project-and-long-battle-over-us-history)'s op-ed touting the 1619 Project books and [webinars](https://1619education.org/blog/webinar-demand-teaching-1619-project) on teaching the 1619 Project, where subscriptions for the newspaper are pushed to teachers.
Penguin Random House, which published _The 1619 Project: Born on the Water_, a picture book, and _The 1619 Project: A New Origin Story,_ a pseudo-scholarly, 500-page neo-Marxist expansion of the magazine (copyright held by the _New York Times_) also enjoys the services of the Pulitzer Center to market its books to educators and librarians, and to fight laws intended to keep it away from students.
Penguin Random House also exploits nonprofit opportunities to sell its books. Markus Dohle, the CEO of the German group Bertelsmann that owns Penguin Random House, donated $500,000 via the nonprofit Dohle Book Defense Fund to PEN America to fight "censorship." As Daniel Greenfield has written, [Penguin Random House](https://www.frontpagemag.com/fpm/2022/02/german-ceo-behind-kendi-and-diangelo-funds-daniel-greenfield/) specializes in publishing racist "anti-racist" tracts by Robin DiAngelo, Ta-Nehisi Coates, and Ibram X. Kendi, and pushes them into schools. Kendi's screed, "Progress," which refers back to his own book _Stamped_, appears in _The 1619 Project: A New Origin Story_. Before [publish](https://www.danielgreenfield.org/2022/02/ceo-of-worlds-largest-publisher-funds.html)ing The 1619 Project books, Penguin had quickly produced a collection edited by Kendi and Keisha Blain (University of Pittsburgh history professor, who, in the [_Nation_](https://www.thenation.com/article/society/crt-black-teachers-resist/) claimed that the "obsession over critical race theory is a new manifestation" of  "anti-Blackness and anti-intellectualism"). _Four Hundred Souls: A Community History of African America, 1619-2019_, featured short knock-off essays by contributors to the 1619 Project and mostly far-leftists, such as Donna Brazile, the Democrat Party-Clinton operative, _New York Times_ columnist Jamelle Bouie, radical academics Robin D.G. Kelley and Peniel Joseph, Sherrilyn Ifill, Barbara Smith (on the Combahee River Collective), Black Panther and Communist Angela Davis (on "The Crime Bill") and "Black Lives Matter" founder, Alicia Garza. Most recently, Greenfield has exposed how the company is remaking [Dr. Seuss](https://www.frontpagemag.com/fpm/2022/03/goodbye-dr-seuss-hello-ibram-x-kendi-daniel-greenfield/) into an avatar of social justice.
Prior to release of the two 1619 Project books in November, the publisher had set up a deal for getting "woke" followers of Hannah-Jones to buy copies and [donate](https://www.frontpagemag.com/fpm/2021/12/1619-project-story-weeks-mary-grabar/) them to schools and libraries, where laws addressing [curriculum](https://www.foxnews.com/us/1619-project-book-school-libraries-critical-race-theory-bans) do not apply. This was through a nonprofit, diversebooks.org, which was largely funded by Penguin Random House. By March 1, more than 6,000 books had been bought and donated through retailers at [bookshop.org](https://bookshop.org/1619).
The Pulitzer Center, which has enjoyed the largesse of Democrat donor Pierre Omidyar and funding from the Zuckerberg Foundation, has served as the clearinghouse for 1619 Project educational materials.
The Pulitzer Center also helped Penguin Random House by running a pilot program that gave advance copies of the book to 35 educators in fifteen states and the District of Columbia. Last month a post-pilot [education conference](https://pulitzercenter.org/1619-project-education-conference)  [hosted](https://1619education.org/1619-project-education-conference) by the Pulitzer Center revealed how these two books are intended to be used. (Penguin Random House has also provided free, downloadable educational [guides](https://1619books.com/) written by Learning for Justice, the educational arm of the Southern Poverty Law Center.) Penguin Random House, which certainly wants to get its books to every student, provided the moderator, [Allan Spencer](https://www.linkedin.com/in/allanspencer/).
The webpage for the conference describes Meta, "formerly Facebook," as "lead [supporter](https://1619education.org/1619-project-education-conference)" for the 1619 Project Educational Materials Collection at the Pulitzer Center. Additional funding comes from "Humanity United, the Trellis Fund, the Art for Justice Fund, Open Society Foundations [Soros], The Rockefeller Brothers Fund, and the Charles Stewart Mott Foundation." The 1619 Project creator, Nikole Hannah-Jones, has appeared on several of the Pulitzer Center webinars (alongside teachers union president Randi Weingarten and others) to encourage and instruct teachers on using the materials. Teachers have received [$5,000 grants](https://thefederalist.com/2021/12/17/pulitzer-center-helps-1619-project-teachers-subvert-laws-banning-racism/) to implement the materials and write lessons.
A good part of the Pulitzer Center's mission these days is "resisting" state laws against the use of the 1619 Project in classroom instruction. So efforts are being made to get the books to other students and in other ways—such as in libraries, and after-school and prison programs. One of the sessions involved a Stetson University program advertised as offering "quality [liberal arts education](https://www.stetson.edu/other/cep/index.php)" to inmates at Florida's [Tomoka Correctional Institution](https://spectator.org/leftists-are-using-the-1619-project-to-indoctrinate-florida-prisoners/). The presentation by  [Andy Eisen](https://www.stetson.edu/other/cep/team.php), who teaches history, and Pamela [Cappas-Toro](https://www.stetson.edu/other/cep/team.php), professor of World Languages and Cultures, offered a view into the three-day "mini-unit," [Public History and _The 1619 Project_](https://1619education.org/builder/lesson/public-history-and-1619-project), created by the [non-profit](https://www.stetson.edu/other/cep/get-involved.php) Community Education Project program. As one of the assignments, involving inmate-students collecting information about their sugar consumption from products in the commissary and linking results back to sugar plantations that relied on slave labor revealed, the program has little to do with history, languages, or the liberal arts. It follows, instead, the 1619 Project mantra, that every injustice in the world—down to availability of sugary snacks in a prison commissary—has its roots in slavery.
From [Texas](https://thehill.com/homenews/state-watch/558675-texas-gov-abbott-signs-anti-critical-race-theory-bill), a state that has passed anti-CRT/1619 Project bills, [Amanda Vickery](https://coe.unt.edu/people/amanda-e-vickery), professor of education at the University of North Texas, served on the panel, "Teaching the Next Generation of Teachers, The 1619 Project Books in Schools of Education," and was commended for her bravery and dedication to "resistance." She described how she used the free copies in classes for her future teachers. As typical, the idea of historical accuracy was not even broached. Instead, Vickery expressed the reigning 1619 Project idea that history is merely an expression of "power," with competing narratives, and the importance of students telling their own stories. (Such standards presumably justify the (false) claim in the picture book that "white people" went into Africa and kidnapped "mommies" and "daddies" in order to make them slaves.)
Unfortunately, a number of history professors are supporting the 1619 Project. Not surprisingly, as revealed in _The 1619 Project: A New Origin Story_, such Marxists as Gerald Horne and Eric Foner have advised the 1619 Project from the beginning! Johns Hopkins University history professor Martha S. Jones has jumped on board, contributing essays to both book collections, on  "The American Revolution" and "citizenship," and making frequent appearances. She gave the keynote address at the conference, but revealed the ahistorical purpose; the 1619 Project, she told teachers, was meant to "challenge us to engage in a powerful thought experiment."
A number of teachers shared how they used the materials in their classes (one of which was described as 99 percent black with most of the students lagging several grades in reading ability). One teacher used the Project to help instill in her students the idea that they were descended from African "kings and queens" (though not apparently that kings and queens in Africa owned slaves which were often sacrificed in funeral rituals for royalty).
As one reader told me about the use of the 1619 Project in his child's high school class, the aim is to set students against each other by race. Criticisms or disagreements are cast as evidence of the student's racism. I advised the student to use the sources in my book, [_Debunking The 1619 Project_](https://www.amazon.com/Debunking-1619-Project-Exposing-America/dp/1684511771/ref=tmm_hrd_swatch_0?_encoding=UTF8&qid=&sr=), to rebut the claims being made.
Everyone from kindergarteners to inmates are being targeted for indoctrination by companies that are [profiting](https://www.frontpagemag.com/fpm/2022/01/gift-mendacious-nikole-hannah-jones-conservative-mary-grabar/) from an alliance with non-profits funded by left-wing political operatives—and taxpayers, against their wishes and the law. Taxpayers subsidize what these companies would normally contribute to the tax base but which they loop into tax-free subsidies to market their own products, as Penguin Random House does with Diverse Books and the Dohle Book Defense Fund. Education professors use class time in state universities to push Random House's books to future teachers. Woke librarians eagerly accept donated books.
Recently, Hannah-Jones on Twitter asked [professors](https://www.campusreform.org/article?id=19065&mc_cid=a30c4c8728&mc_eid=113abc14e5) to share how they use the 1619 Project. A sampling of the responses is alarming. In addition to being used in history and education courses, the 1619 Project is infusing English, paralegal studies, sociology, public health policy, and who knows what else.
Alarmingly, according to _The 1619 Project: A New Origin Story_, more 1619 Project books are in the works. It may seem amazing that the one magazine issue has had such an impact. But it should not be, when you consider that two of the biggest and most powerful media companies in the world are behind it.
**Mary Grabar, Ph.D., is a resident fellow at the Alexander Hamilton Institute for the Study of Western Civilization and the author of [_Debunking The 1619 Project: Exposing the Plan to Divide America_](https://www.regnery.com/9781684511778/debunking-the-1619-project/) and [_Debunking Howard Zinn: Exposing the Fake History That Turned a Generation against America_](https://www.regnery.com/9781684511525/debunking-howard-zinn/).**