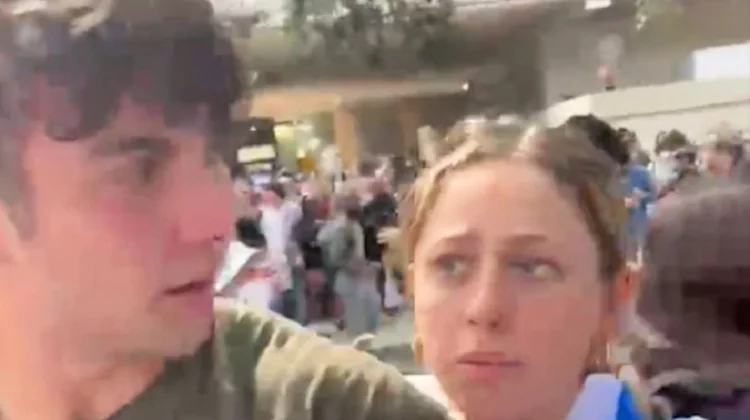 At Tulane University, Dylan Mann, a Jewish student, took part in a pro-Israeli rally on October 27. A group of pro-Hamas demonstrators looking for trouble arrived in a pickup truck — it has still not been made public if they were students or not — and tried to start a violent confrontation by setting fire to an Israeli flag. The flag was one that either they had brought themselves for that very purpose, or had ripped from the shoulders of a student taking part in the pro-Israel rally. Mann tried to stop them; he was then attacked by two of the pro-Hamas bullyboys, who punched him repeatedly. One smashed a megaphone into Mann's face, breaking his nose. This level of violence is new on campus. We have already seen around the country demonstrations, including many at universities, by anti-Israel pro-Hamas groups that now routinely include a call for Israel's disappearance — "From the river to the sea/Palestine will be free" means only one thing, that the single Jewish state should disappear altogether, to be replaced by a twenty-third Arab one. In chants at rallies, in postings on social media, and in flyers posted on walls, poles, and trees, anti-Israel student groups accuse Israel of being an "apartheid" state, a "colonial-settler" state, a state that commits "genocide" in Gaza. I have repeatedly presented the evidence that Israel is not an apartheid state. To wit: Arabs sit on the Israeli Supreme Court, serve in the Knesset, go abroad as diplomats representing the state. The chairman of Israel's largest bank, Bank Leumi, is an Arab. Jews and Arabs work in the same offices and factories. Jews and Arabs are treated in the same hospitals by the same medical personnel, both Jewish and Arab. Jews and Arabs play on the same sports teams and in the same orchestras. Jews and Arabs own businesses together, everything from restaurants to high-tech start-ups.
Nor is Israel a "colonial settler" state. Jews have been living continuously in the Land of Israel for at least 3000 years, at least 1600 years before there was a single Muslim Arab in the area or, indeed, before Islam itself appeared. Israel is not a "colony" of some other state, the way that Algeria was once a colony of France, or Kenya a colony of Great Britain. The Land of Israel is peopled by the descendants of its original inhabitants, who have returned to rebuild their Jewish state in their ancient Jewish homeland.
As for the charge hurled at Israel of committing "genocide," Gaza's population has increased from 400,000 in 1967, when Israel took it over in the Six-Day War, to 2.2 million today, a fivefold increase. Some "genocide!" But no charge is too absurd to be made by those who hate Israel. Some of these campus anti-Israel agitators are completely ignorant of the relevant history; they have never read the Mandate for Palestine, the Treaty of San Remo, Article 81 of the Hamas Charter, or UN Security Council Resolution 242. The callow youth on campuses today have grown up in an atmosphere of anti-Israel attitudes; they have been brainwashed both by left-wing anti-Israel faculty members who far outnumber pro-Israel faculty on campuses today, and by the growing number of Muslim classmates, so many of whom are obsessively anti-Israel.
More on the attack on Dylan Mann can be found here: "'The Jewish People Will Never Be Defeated': Pro-Israel Tulane University Student Beaten by Pro-Hamas Protesters Remains Defiant," by Dion J. Pierre, Algemeiner, October 27, 2023:
…Draped in an Israeli flag, Mann was among a large group of Jewish students staging a pro-Israel protest near the Tulane campus when a pickup truck carrying pro-Hamas demonstrators drove past them. When one of the demonstrators took a match to an Israeli flag, a Jewish student attempted to prevent him from setting it alight. As Mann ran towards the fray to aid his fellow student, he was set upon by two pro-Hamas demonstrators, one of whom rained punches on his head and body while the other bashed him over the head with a megaphone, breaking his nose.

"My nose was bleeding, it was like a water fountain," the 19-year-old Mann told The Algemeiner. He was later taken to Ochscner [sic] Hospital where he received treatment and is now recovering.

Asked about the speed of the police response to the assault he endured, Mann was scathing.

"One of the very sad things was that I was getting the s__ knocked out of me, and there were no police in sight," he recalled. "Even afterwards, the Tulane medical services reached me sooner than the police did."…

In a statement commenting on the incident — the first known outbreak on a US college campus of violence between pro-Israel and pro-Palestinian protesters — Tulane president Michael A. Fitts spoke of a "deeply distressing day."

"To be clear: we condemn and are outraged by today's violence and the hateful language and rhetoric we heard," Fitts declared in a message to the university community. "It is counter to everything we stand for at Tulane. What started out as a peaceful demonstration unfortunately devolved into a violent incident and a dark day for our community."

Fitts explained also that the university had no affiliation with the pro-Palestinian protests, which was held on public property.

"Symbols and acts of hatred, antisemitism, deliberate provocation, and preying upon the fears of others are not part of who we are," he said. "We cannot prevent protests from happening on public property even at our university's doorstep. We can only protect and support one another as we face each new day together."
Tulane's president Michael Fitts offered a general condemnation of "violence and hateful language," but was not clear as to whom that condemnation applied. Reading his statement, one might be led to believe that the violence and the murderous rhetoric were coming from both sides. But they weren't. It was the pro-Hamas toughs in a pickup truck who, having spotted the pro-Israel rally, stopped, got out, and tried to set fire to an Israeli flag. There was no violence from the pro-Israeli students, who only tried to prevent the Israeli flag from being burned up. It would have been good if President Fitts had said, instead, the following: "On October 27, an attempt was made by protesters to burn an Israeli flag. When a Jewish student tried to prevent this outrage, he was repeatedly punched by two pro-Hamas demonstrators; one of the cowardly attackers smashed a megaphone over the student's head, breaking his nose. We trust that the police will find the perpetrators; if they turn out to be Tulane students, they will be promptly expelled. Such violence will not be tolerated."
There. That's much better.