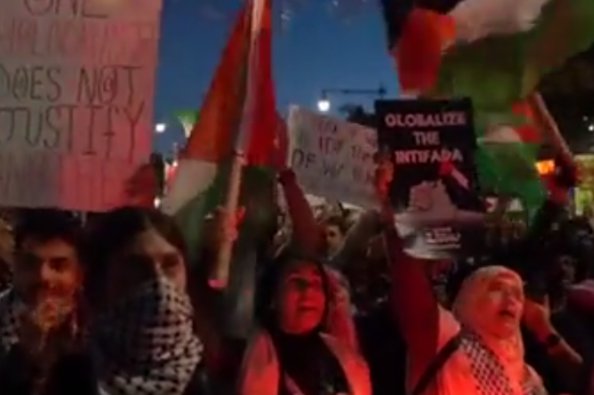 Since Hamas initiated a brutal and barbaric terrorist attack against Israel and the Jewish people on October 7th, many Americans—Jewish and not—have mourned alongside the world's only Jewish state and have understood the necessity of a swift and decisive military counterattack. But in the green quads and ivory towers of American academia, a very different reaction has been brewing. For the past two decades, the David Horowitz Freedom Center has shone a rare spotlight on the genocidal Jew hatred emanating from our college campuses. Student organizations like the Hamas-funded and Muslim Brotherhood-affiliated Students for Justice in Palestine have infiltrated our universities and turned them training grounds for the next generation of jihadists. In the wake of Hamas's barbarism, its slaughter and mutilation of innocent Jews, its campaign of rape and torture and beheading, we can now bear witness to the effects that two decades of Jew-hating pro-terror propaganda have wrought in our institutions of higher learning.
At Harvard, arguably America's most prestigious university, over 30 student organizations signed onto a statement declaring that they "hold the Israeli regime entirely responsible for all unfolding violence."
Not to be outdone by Harvard, the Students for Justice in Palestine chapter at Brown University released its own statement (co-signed by the Graduate Labor Organization and Teaching Assistant Labor Organization, as well as 25 additional organizations) stating that: "We, the undersigned, hold the Israeli regime and its allies unequivocally responsible for all suffering and loss of life, Palestinian or Israeli."
At Cornell University, SJP held a rally to "Stop Israel's Annihilation of Gaza." History Professor Russell Rickford who spoke at the rally declared Hamas's barbaric attack which included the rape of women, the beheading of babies, and the deaths of entire families as "exhilarating."
Yale University Professor Zareena Grewal tweeted in support of Hamas, calling October 7th an "extraordinary day." She went on to justify the barbaric violence unleashed on Israeli civilians, writing "Prayers for Palestinians. Israel is a murderous, genocidal settler state and Palestinians have every right to resist through armed struggle, solidarity." Yalies4Palestine also released a statement blaming Israel which stated, "We hold the Israeli Zionist regime responsible for the unfolding violence and denounce the Israeli occupation, apartheid system, and its military rule" and declaring that "The events of October 7th are the inevitable outcome of a decades-long apartheid and suffocating blockade that continues to escalate." The statement concluded by celebrating Hamas's barbarism, adding that, "Yalies4Palestine stands in full support of the Palestinian people's right to resist colonization and return to their land" and "Breaking out of a prison requires force."
Meanwhile, twenty campus groups at Columbia University signed a statement condoning and justifying Hamas's atrocities against Jews, describing the wholesale slaughter of infants and children and the rape of women as "resistance," and blaming Israel and America for the violence, writing, "The weight of responsibility for the war and casualties undeniably lies with the Israeli extremist government and other Western governments, including the United States government, which fund and staunchly support Israeli aggression, apartheid and settler-colonization." Also at Columbia, a Jewish Israeli student was beaten with a stick in front of Butler Library by another student who screamed "F**k you, F**k all of you prick crackers" causing the Jewish student to suffer a bruised hand and broken finger.
At the University of Pennsylvania, dozens of flyers depicting the names and faces of the Hamas kidnapping victims were torn down within an hour of being put up around campus. The student group, Penn Against the Occupation, held a "Collective Walk Out for Palestine" during which a Jewish student was assaulted while putting on tefillin and a speaker claimed there were no "innocent civilians" in Israel because "all settlers and all settlements are legitimate military targets and they will be targeted until the time in which one-state, a plura-national, secular and socialist state is formed on Palestine and you can either live there in peace or you can go back to Moscow, and Brooklyn and and f**king Berlin where you came from." Participants in the event chanted genocidal slogans including "Intifada, Intifada," "Resistance is Justified, When People are Occupied," and "Free Palestine."
And that's just the Ivy League. The reaction to Hamas's attacks across the rest of academia was no more constrained.
At Stanford University, the instructor of a required undergraduate class on "Civil, Liberal and Global Education" instructed Jewish students to raise their hands. She then told the Jewish students to gather their belongings and go stand in a corner, saying, "This is what Israel does to the Palestinians." The instructor then asked the students, "How many people died in the Holocaust?" When a student answered, "six million" the instructor minimized the mass slaughter of Jews, saying, "Colonizers killed more than 6 million, Israel is a colonizer."
At UC-Berkeley, a statement organized by Bears for Palestine that signed by twenty-five on-and-off campus organizations brazenly declared their support for Hamas's brutal terrorist maiming and slaughter of Jews. "We invariably reject Israel's framing as a victim" said the statement which also argued that "[O]ur people's freedom will not be attainable without revolution" and "We support the resistance, we support the liberation movement, and we indisputably support the Uprising." The statement included the genocidal sentiments, "From the River to the Sea, we will continue to support resistance until we are able to return home to a unified Palestine" and "Glory to Palestine, glory to the resistance, and glory to our martyrs."
Jewish Voice for Peace at Georgetown University chimed in with a statement supporting Palestinian "resistance" (otherwise known as mass slaughter of innocents) and asserting that "The violence we see today is a direct result of the brutal decades-long occupation of Palestinian land."
At the University of Michigan, a statement demonizing Israel and blaming the Jewish state for Hamas's barbaric violence was signed by over 800 faculty members, staff, and graduate students. "We write as human beings in grief and anguish over the loss of life — both Palestinian and Israeli — that is the result of the decades-long Israeli occupation of Palestine and the structural apartheid Palestinians residing both within Israel and the Occupied Territories endure on a daily basis," declared the statement. Meanwhile, Michigan Professor Erik Gordon has been accused of tearing down posters depicting Israelis kidnapped by Hamas.
SJP at Tufts University released a statement celebrating Hamas's vicious terrorism, calling it an "historic attack on the colonizers," and applauding the paragliders who brought mass terror to innocent civilians, stating that "Footage of liberation fighters from Gaza paragliding into occupied territory has especially shown the creativity necessary to take back stolen land."
SUPER UW, a pro-Palestinian group at the University of Washington, held an anti-Israel protest on campus which featured genocidal chants including "Palestine is our demand, no peace on stolen land," "There is only one solution, intifada revolution" and "Resistance is justified when people are occupied." During the event, one SUPER UW supporter yelled "F**k Israel, no problem, f**k you, f**k you, you guys are all f**king gay bro" at pro-Israel students while another protestor defended Hamas's barbaric terror campaign, stating, "What Hamas is doing is fighting for their people, fighting for their country back, that's what Hamas is doing [but] what America is saying is Israel is a victim, but for what, for Hamas defending their people."
SJP chapters and pro-Palestinian groups at several New York schools including the City University of New York, City College of New York, Brooklyn College, and John Jay College, released a "Joint Statement" that demonized Israel and claimed that Hamas's barbarism against Israel was justified. The statement referred to Hamas's reign of rape and terror as "a wave of resistance [that] swept across occupied Palestine" which created "a sense of empowerment," and scolded the CUNY administration for condemning Hamas, arguing that "To call the resistance of those who were oppressed for over 75 years 'abhorrent' is blasphemous" and "it continues to be a reminder that colonization is inherently violent and this was brought by the Israeli apartheid state."
This is just a small sampling of the reactions across America's colleges and universities. Instead of condemning outright barbarism and the mass slaughter of Jews, large numbers of students and faculty across the nation are celebrating the bloodshed and heralding the coming revolution. These true believers view the world through the prism of Marxist ideology in which the Jews and Israel are oppressors who must be overthrown by any means necessary—up to and including the mass slaughter and mutilation of innocents.
As Daniel Greenfield wrote recently, "The radicalization of universities has made them into safe spaces for the worst possible extremists. Conservative faculty and all opposing voices have been banished from campuses. Pro-Israel and conservative students have learned to hide their views to avoid becoming targets. And curriculum changes have turned places of learning into Marxist indoctrination centers."
The world at large is finally witnessing the degradation and perversion of academia that we have warned about for decades. We cannot let this moment pass without utilizing the momentum it has wrought. We must push Congress and state legislators to immediately defund any university which gives aid and comfort to America's enemies and openly seeks to foment terrorist violence. If the last few weeks have shown us anything, it is that the radical Left has zero pretense of adhering to a moral code. We must act now, before it is too late.