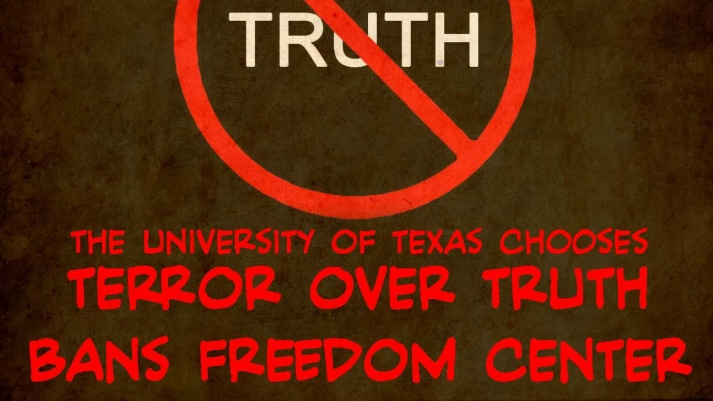 [Editor's note: To learn more about the Freedom Center's campaign, Stop University Support for Terrorists, CLICK HERE. To read and order the Freedom Center's new pamphlet, SJP: Neo-Nazis on Campus, which sheds light on the extreme depths of Jew-Hatred promoted by the organization Students for Justice in Palestine (SJP), CLICK HERE.]
Can you imagine a public university banning free speech and threatening arrests over flyers exposing anti-Semitism and warning about a student group funded by terrorists that promotes their propaganda?
But that's exactly what happened to the Freedom Center at the University of Texas at San Antonio.
"Disciplina Praesidium Civitatis" is the Latin motto that circles the seal of the University of Texas. The University of Texas system motto is a latinized quote from the second president of the Republic of Texas, "A cultivated mind is the guardian genius of democracy."
The University of Texas at San Antonio disgraced the motto by banning any flyers and posters from the David Horowitz Freedom Center under threat of criminal prosecution. The threatening letter from UTSA contains a "criminal trespass warning" to "the David Horowitz Freedom Center and its members."
"You are barred and forbidden from entering or remaining on any UTSA properties. If any member of your organization returns, they are subject to arrest," the public institution has threatened
At the University of Texas at San Antonio the guardian genius of democracy is behind bars. Its administration is protecting Hamas front groups while suppressing free speech and civil rights.
President Taylor Eighmy celebrated the unconstitutional threats of arrest against the Freedom Center. "Freedom of expression is vital to institutions of higher education, but we cannot tolerate speech that violates our freedom of expression policies," the head of a taxpayer-funded institution warned.
Freedom of expression means something very different at the UTSA than it does everywhere else.
Joseph Mabry, a Jewish UTSA student,
described
some of the harassment. "People were yelling 'Free Palestine' when I was trying to do a religious observance of Hanukkah."
Nour Rafati
, a USTA grad student, and SJP and MSA member, had posted anti-Semitic remarks on social media and mocked the Holocaust.
"Sometimes I just wanna slap a thousand Jews," Rafati tweeted. And, "Slap a jew for me."
Lojain Saadat
, an SJP activist and MSA member at UTSA, had slurred the Jews.
Osama Aburumuh
, a UTSA student, had tweeted, "The Jews are our dogs."
Malaak Abdelqader
, an alleged UTSA student, tweeted, "F**king jews at the mall pissed me off I wanted to push them down to the second floor."
This is the sort of violent bigotry that the UTSA administration is protecting with threats of arrest.
The Freedom Center's
#StopUniversitySupportforNeoNazis
campaign challenged administrators at UC-Berkeley, San Francisco State University, UCLA, USC, UT-Arlington and UT-San Antonio to stand up to anti-Semitism. The campaign's posters featured anti-Semitic statements such as these by SJP members.
These are the posters that the University of Texas at San Antonio is desperately trying to censor.
Anti-Semitism by SJP
and
MSA members
at UTSA isn't coincidental. Both groups have a long history of anti-Semitic speakers, statements and acts of harassment. Some chapters have been sanctioned or condemned by colleges around the country, but the UTSA instead chose to shoot the messenger.
And MSA and SJP's history of anti-Semitism isn't surprising considering the Hamas connection.
AMP
has been accused
of being a front group for the defunct Palestine Committee which acted as a Hamas fundraising and propaganda arm. And Bazian was a speaker for KindHearts: a Hamas fundraising group shut down by the United States government.
Hamas is a racist and genocidal terrorist group obsessed with murdering Jews. But the University of Texas at San Antonio is equally obsessed with protecting Hamas on campus.
The flyers condemning SJP anti-Semitism were spotted by the UTSA Campus Climate Team. The Team was formed to "protect members of the university community from being targeted for their beliefs or backgrounds."
Either the beliefs and backgrounds that the Team is protecting excludes Jewish students or it includes SJP anti-Semites.
The Campus Climate Team
learned
of the Freedom Center's flyers exposing SJP hate on their campus. And swiftly jumped into action. Footage from surveillance cameras was studied to determine who had expressed dissenting speech. And the Freedom Center and everyone in it were threatened with arrest.
The Climate Team describes this as a "bias incident." But the only bias here was the one exposed by the Freedom Center. The flyers were critical of a special campus hate group, not of any race or religion.
USTA took this action to censor criticism of the pro-terrorist and anti-Semitic views of SJP members.
A public university is using the threat of arrest to silence free speech and suppress political views.
"Freedom of expression is vital to institutions of higher education, but we cannot tolerate speech that violates our freedom of expression policies," Taylor Eighmy, the president of UTSA,
warned
.
That is a frightening statement.
Universities, especially public ones like UTSA that are funded by taxpayers, are places where speech must be tolerated. Instead, Eighmy and the Climate Team suppressed political speech that criticized the bigotry of a campus hate group.
And they did it because that hate group is recognized, supported and funded by UTSA. They weren't just censoring criticism of SJP, but of themselves, using threats of arrest to cover up abuses on their campus.
And that is unacceptable on a college campus or anywhere in America.
The quote that serves as the source of the University of Texas motto concludes that a cultivated mind is "the only dictator that freemen acknowledge". But the UTSA has a new dictator. This dictatorship uses the threat of criminal sanctions to enforce the dictates of political correctness. It bans dissent, spies on free speech and proudly celebrates its efforts to eradicate them from a public university.
The University of Texas at San Antonio banned the Freedom Center for exposing campus terror and hate. It has backed its censorship efforts with threats of arrest, with surveillance cameras and warning letters. It is using police state tactics to build a wall around its spaces to keep the truth out.
It's doing all that because the
Freedom Center's campaign
has touched a nerve. The terrorist supporters and their accomplices tried to ignore the campaign. And that didn't work. Now they're using the blunt tools of legal threats to protect their safe spaces for anti-Semitism and Hamas. But those spaces will come down. Repressing ideas by force isn't a sign of strength; it's an admission of weakness.
And the truth that the Freedom Center is telling will be heard at UTSA and everywhere else.
Daniel Greenfield, a Shillman Journalism Fellow at the Freedom Center, is an investigative journalist and writer focusing on the radical left and Islamic terrorism.