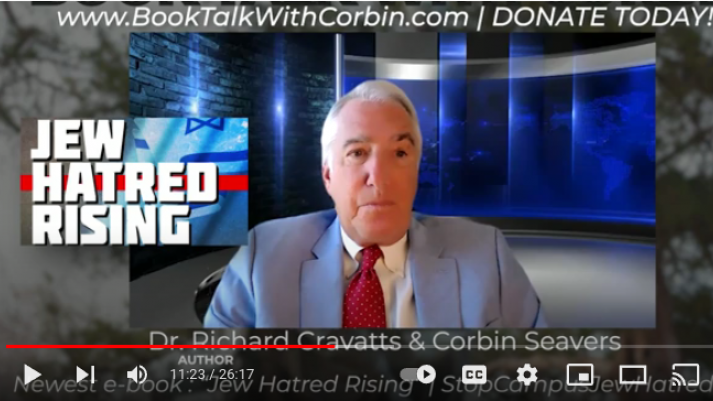 Freedom Center fellow and esteemed author Richard L. Cravatts, Ph.D. recently appeared on the show Book Talk with Corbin, with host Corbin Seavers, to discuss his new e-book, Jew Hatred Rising: The Perversities of the Campus War against Israel and the Jews, which was published last month by the David Horowitz Freedom Center.
"Let me give you some specific examples of some recent campus activity that demonstrates how inverted morally and ethically students and faculty have become in their discussions about Israel and the Palestinians," Dr. Cravatts told host Corbin Seavers.
"In May, after 4,000 rockets had rained into southern Israeli towns from Hamas out of Gaza with the express purpose of murdering Jews–randomly, civilian Jews, not soldiers–and the government of Israel was finally forced to protect its citizenry from being murdered, to send in some forces to suppress this rocket fire, at that point hundreds of university departments, faculty members, academic organizations, gender studies departments, and others, issued statements of solidarity…expressing their proud solidarity with the Palestinians and Hamas and denouncing all of Israel's attempts to defend itself, what any nation on earth has the moral and legal right to do when they are under attack by people wishing to kill their citizens."
Watch the full episode below! Read Jew Hatred Rising HERE.