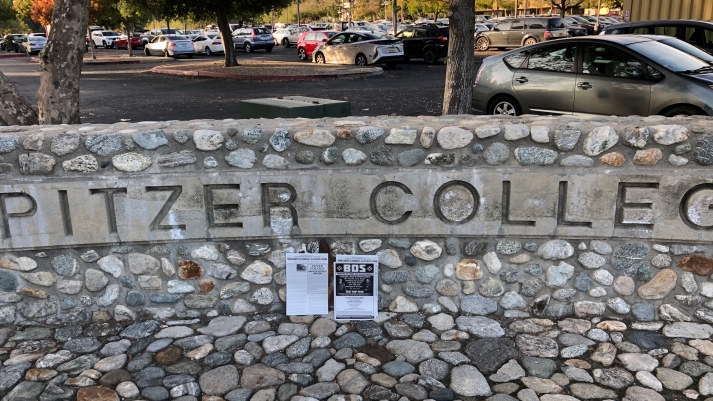 In a letter sent to the heads of Pitzer College and Pomona College in Southern California, the David Horowitz Freedom Center, acting with the Dhillon Law Group, put the Claremont Consortium of Colleges on notice that their promotion and funding of anti-Semitic speakers and events is a violation of federal law and will no longer be tolerated.
Over the past several years, Pitzer, Pomona, and the other Claremont Colleges have repeatedly funded anti-Semitic rhetoric and displays on campus—largely organized by the Hamas-funded campus hate group Students for Justice in Palestine—which contribute to a hostile environment for Jewish students.
The letter cites Executive Order 13899 which was signed by President Trump on December 11, 2019. The Order directs executive agencies to enforce Title VI of the Civil Rights Act of 1964 against all prohibited forms of discrimination rooted in anti-Semitism just as vigorously as against all other forms of discrimination prohibited by Title VI. Title VI prohibits discrimination on the basis of race, color, and national origin in programs and activities receiving federal financial assistance.
This is not the first occasion on which the Freedom Center has challenged the Claremont Colleges over their funding and promotion of Jew hatred. Last fall, the Freedom Center named Pitzer as one of the "Top Ten Colleges that Promote Jew Hatred and Incite Terrorism." Over a thousand printed newspapers containing the report on the prevalence of anti-Semitism at Pitzer were distributed by the Freedom Center on Pitzer's campus.
Instant reaction to the newspapers proved that they had hit their mark. The president of Pitzer College, Melvin Oliver, released a public statement labeling the Freedom Center's newspapers exposing Jew hatred on his campus as "attack speech or hate speech so extreme that it requires our response" and claiming that the report's allegations were "demonstrably false and intentionally incendiary"—without citing a single example of these alleged falsehoods.
Freedom Center founder David Horowitz responded by thanking President Oliver for his "Orwellian smear against our Freedom Center" and stating that in fact "Hate speech is calling a legitimate, fact-based critique of your support for a Jew-hating terrorist support group like Students for Justice in Palestine hate speech."
Horowitz concluded his response to Oliver with this thought: "Some of the students participating in this campaign of Jew-hatred are simply ignorant. You don't have that excuse. You are a disgrace – an all too typical disgrace among your academic colleagues which is why Jew-hatred is rife on our campuses today." The war of words was covered in the local and national press.
With the delivery of the Freedom Center's legal missive to Pitzer and the Claremont Colleges last week, these institutions have been put on notice that their funding and support for Jew hatred will no longer be tolerated.
Read the full letter to the Presidents of Pitzer College and Pomona College HERE.