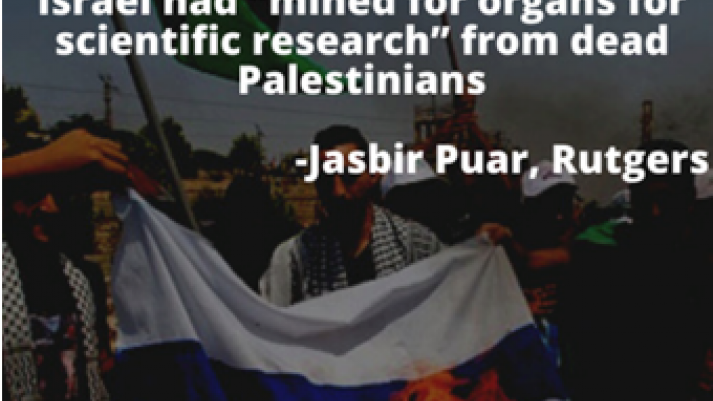 A cutting-edge social media campaign conducted last month by the David Horowitz Freedom Center targeted select professors known for their promotion of Jew hatred and support of anti-Israel terror groups at elite schools including Stanford University, the University of Wisconsin-Madison, the University of California-San Diego, and Rutgers University.
Even as the coronavirus has forced closures of colleges across the nation, anti-Semitism continues to take on new and disturbing dimensions with both Jews and Zionists being blamed for the spread of the virus. National Students for Justice in Palestine—a campus hate group that receives funding from the terror group Hamas—this year instituted a "virtual" Israeli Apartheid week to promote Hamas propaganda and exploit the worldwide pandemic to invoke centuries-old blood libel claims against the Jewish people.
Spurred by this rising tide of anti-Semitism, the Freedom Center published a report this spring exposing the Top Ten Jew-Hating and Terror-Promoting Professors in America. With students and faculty evacuated from campus due to the virus, the Freedom Center conducted a targeted Facebook and Instagram campaign which displayed ads highlighting the atrocious statements and actions of these Jew-hating professors directly to students, faculty, staff, and alumni at four of the ten schools listed in the report. These social media campaigns sought to raise awareness and provoke outrage among individuals with a strong connection to each campus. A second wave of ads promoted a letter-writing campaign to the president or chancellor of each university.
The professors targeted in this social media blitz were Jasbir Puar of Rutgers University, Joel Beinin of Stanford University, Yến Lê Espiritu of the University of California-San Diego, and Samer Alatout of the University of Wisconsin-Madison.
Each one of these professors has abused his or her academic position to promote malicious libels about Israel and the Jews and to promote the genocidal and Hamas-funded Boycott, Divestment and Sanctions (BDS) movement against Israel.
Puar has defended violent acts of terrorism against Israelis and has promoted anti-Semitic blood libels against the Jewish people, claiming that the nation of Israel "mined for organs for scientific research" from the Palestinian population and deliberately maimed them and stunted their growth.
Beinin absurdly claimed that "Israel has been the aggressor for most of its historical existence" and described the First Palestinian Intifada (1988-92) as a "strike for peace" against Israeli oppression and lauded "the first martyr of the uprising" while downplaying attacks on Israeli citizens as a "small number of violent incidents."
Espiritu decorates her university office door with posters glorifying Hamas and accusing Israel of engaging in "apartheid" and has a longstanding reputation for biased and one-sided instruction in the classroom and a blatant intolerance for students with pro-Israel views.
Alatout has spoken in support of the Hamas-funded BDS movement at events organized by the anti-Israel hate group Students for Justice in Palestine and has repeatedly demonized the Jewish state on social media by describing Israel as an "apartheid" nation and falsely claiming that Israel is conducting "ethnic cleansing of Palestine."
Using eye-catching graphics and memes, the Freedom Center's social media campaign was able to place this direct evidence of each professor's anti-Semitism and support for terror directly in the Facebook and Instagram feeds of students, alumni, and fellow educators from each university. Reaction was swift and condemnatory.
"This is NOT the top ten ranking I wanted to see from my Rutgers alma mater," commented one Rutgers alum on Professor Puar's inclusion in the Freedom Center's report. "While I am all for protecting Free Speech, the BDS movement is based on vile ethnic hatred in the guise of pseudo human rights."
"I'm becoming embarrassed for my alma mater!" a UW-Madison alum commented on an ad chronicling Alatout's anti-Semitism. "My school—A COMPLETE SHAME!!!" stated another.
"That's why I won't give a dime to my alma mater," wrote one University of California-San Diego alum of Espiritu's inclusion on the Top Ten list. "This is great that you are outing her," another commented.
"You weren't allowed to be Christian at UCSD either," responded another alum. "I had to pretend not to care every time the professors made fun of Christians where they were met with applause by the gullible. The professors tore anyone who was Christian to shreds. You had even less hope if you were Jewish."
"I feel some shame in having attended Stanford," one alum remarked to Beinin's inclusion on the list. "Took his Arab-Israeli conflict seminar in 1988-89," wrote another Stanford alum of Beinin. "I suspected by late in the term that I had to write an anti-Israel final to get an A, so I faked one (and got an A-)."
During the four weeks of the social media campaign, the Freedom Center's ads exposing Jew-hating professors reached 121,000 people across all 4 targeted campuses and garnered 400,000 total impressions.
In the last weeks of the campaign, the Freedom Center reached out again to specific students and alumni who had responded with outrage to the evidence that their university provides an academic home for one of these Jew-hating professors. A secondary Facebook and Instagram campaign encouraged each of these individuals to email a letter to the president or chancellor of each university, expressing their wish to see these anti-Semitic remarks publicly condemned by university leaders. Thirty individuals committed to sending such letters.
"The existence of these Jew-hating professors reflects not only on these individuals but on the institutions that support them," commented Freedom Center founder David Horowitz. "The presence of an Israel and America-hating front on America's college campuses is an ominous development and a clear threat to America's future. Our campaign has forced the universities which shelter these abominable individuals to confront the fact of their anti-Semitism and hatred."
The Freedom Center's report and online campaign also sparked the attention of the Middle East Studies Association of North America (MESA), an organization whose membership is dominated by anti-America, anti-Israel leftists who are apologists for Islamic terrorism. MESA directed a letter to University of Wisconsin-Madison Chancellor Rebecca Blank asking that she address the "scurrilous and defamatory attack that the David Horowitz Freedom Center (DHFC) has directed against one of your faculty members…Samer N. Alatout" by "vigorously denounce[ing] this politically motivated assault on Professor Alatout."
The letter labels the Freedom Center a "notorious organization" and claims that this latest campaign to expose Jew-hating professors proves it is "a thoroughly disreputable outfit whose claims and mode of operation are rejected by the great majority of scholars at this country's institutions of higher education." Given the views of most university professors including the membership of MESA, the Freedom Center can only take such words as a compliment.
Images of the Freedom Center's Facebook ads targeting Jew-hating professors may be viewed below.