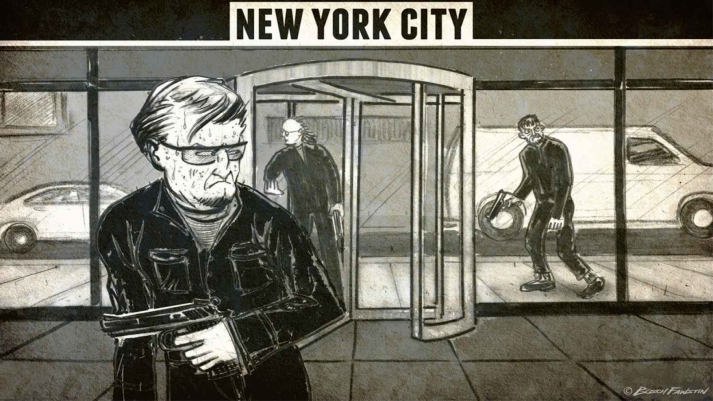 Early Friday morning, Peter Weyand broke into the all-female dormitory of Yeshiva University's Stern College. He kicked through the glass door of the Manhattan Jewish dorm and began starting fires.
FDNY firefighters arrived, put out the fires, and fire marshals arrested the arsonist.
"Thanks to the thorough investigative work of our Fire Marshals, a dangerous individual has been quickly apprehended," Commissioner Nigro announced.
Not so fast.
On Saturday, Weyand had his hearing and was out. Prosecutors hadn't asked for bail because pro-crime "bail reform" meant that arson was not longer a qualifying crime requiring bail. A day after this "dangerous individual" had been caught, he was out again on supervised release. By that evening, he had been arrested for yet another break-in. This time targeting a private home in Staten Island.
Weyand, an Austin software engineer, did not fit any of the profiles for attacks on Jewish institutions. His politics were relentlessly progressive. A website created by him shows a picture of Trump next to the words, "Go to jail". There are other lefty memes, including those showing Trump with Putin, McConnell as a turtle attacking health care, along with expressions of support for Cory Booker and Bernie Sanders.
A graphic calls Trump the "secret alien space Hitler." LinkedIn posts show Weyand posting angry environmentalist screeds along with attacks on President Trump. "Donald Trump getting boo'ed at a Washington Nationals Game. This made my week," he posted.
And then his content took on a darker tone.
"Ok ok. So gonna die probably," Weyand then posted before the attack. "I've always been a hippy at heart, but I've been super s____y and priviledged my whole life."
"They've (CIA) been brainwashing me unfortunately (but I forgive them), so I have memory loss," he rambled. "They'll say I killed someone, I don't know who, but I've got a good guess. I'm queer, and couldnt hurt a fly."
Stories by the New York Post and the New York Times connected Weyland's social media to the crime.
What was Weyand's motive for the arson? His ramblings would seem to suggest that he wasn't in his right mind. The authorities have blamed drugs. Earlier, he had responded to an Ease ad offering to deliver marijuana to hotel rooms with, "I approve. Thank you for making the world a better place."
Weyand was obsessed with the environment, with impeachment, and later the CIA. Did his fear of an environmental catastrophe motivate his arson attempt? There's no way to know. But what we do know is that he is the product of a broken system which is endangering Jews in New York City.
The rapid turnaround that put Weyand back on the street shortly after starting fires in a girls' dorm, was not unique. It's the result of the pro-crime policies that proponents call, 'criminal justice reform'.
The traditional name for them is 'revolving-door justice'.
The New York Post noted that the perps in all but one of the eight anti-Semitic hate crimes carried out on Chanukah in New York City would be out on the street about as quickly as the Yeshiva U arsonist.
Tiffany Harris assaulted three Orthodox Jewish women in Crown Heights while shouting "F-U, Jews!"
She told the court, "Yes, I slapped them. I cursed them out. I said 'F-U, Jews."
Harris already had an open assault case and had gotten no jail time for a felony criminal mischief case.
No bail was requested and Harris was quickly freed.
A river of ink has been spilled about why attacks on Orthodox Jews in New York and New Jersey are taking place. But there's been almost no conversation about what can be done about it. It is not the job of governments to change minds and hearts, but to protect citizens from violent crime.
And that, more than anything else, is why these crimes keep happening in blue cities.
Weyand, Harris, and the other attackers are examples of what happens when criminals and crazies have nothing to fear from the justice system. Jews are being attacked across the country because of anti-Semitism. But they're also being attacked because the attackers know that they can get away with it.
Lihi Aharon was riding the subway when Zarinah Ali began shouting anti-Semitic slurs at an Orthodox Jewish man. When Aharon stood up to her, she was assaulted.
Aharon filmed Ali shouting, "Allahu Akbar", and, "It's in the Quran, where they curse the serpent Jew, you wouldn't believe. You f—- nasty a— Jew. You nasty mother—–. You a nasty a—- mother—-, you stink. You f—- stinkin' a—- Jew."
Despite the evidence, the Manhattan DA's office chose not to prosecute the assault as a hate crime until the intervention of the Lawfare Project and the video of the encounter going viral forced a turnaround.
After the New York Post and other papers reported on Harris' release, Mayor Bill de Blasio intervened, a rapid hearing was held, and she was sent off for a psychiatric evaluation. An emergency intervention in response to bad publicity to bad policies isn't a sign that the system works, but that it's badly broken.
Criminal justice reform and other pro-crime policies have made New York City a dangerous place.
Violent assaults on Jews are not a community relations problem. Women being punched in the head for walking while Jewish is not a problem that requires forums and rubber chicken dinners. It requires cops.
Jews have often been the canary in the coal mine. The anti-Semitic assaults are symptoms of a larger civilizational breakdown in major cities. It's not only Jews that are being attacked by the likes of Weyand, Harris, and Ali. But Orthodox Jews are visible and often live near high crime areas.
The third most underreported story of the last five years is the effective collapse of the justice system.
New York, San Francisco, and other major cities have gone back to treating anything short of murder with light slaps on the wrist. Repeat offenders don't bother showing up to court hearings. Judges keep them out of prison and put them back on the street over and over again. Violent crime, filth, and homelessness have become catastrophic crises because of criminal justice reform.
The media has addressed this national crisis by refusing to report on it and by lying frantically about it.
Anti-Semitism is rising, we are told, because of the first President of the United States with Jewish grandchildren. Not because you can punch a Jewish person in the head and be out the next day.
Jews are members of one the smallest minorities around. The breakdown of society, whether in America or Europe, has hit Jews harder. When the police stop enforcing the law, when judges don't do their jobs, and when politicians announce that people are fair game, a visible minority becomes an easy target.
Anti-Semitism has been around forever. There's no reason to think that it, like poverty, hunger, or any of the other social ills that politicians pretend can be wished away with campaigns, will go away. But we can and should prevent violent assaults from happening with impunity. If you want to stop violent anti-Semitism in the streets, start by ending the pro-crime initiatives of criminal justice reform.
Ending revolving-door justice will make Jews and everyone else in the country safer.
Daniel Greenfield, a Shillman Journalism Fellow at the Freedom Center, is an investigative journalist and writer focusing on the radical Left and Islamic terrorism.