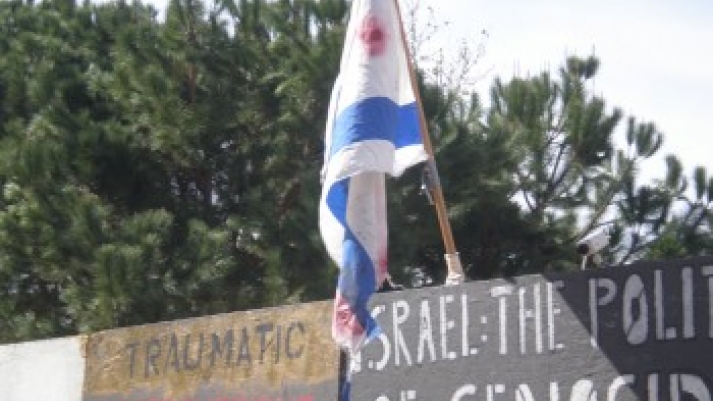 National Students for Justice in Palestine announced on Sunday that it will host its eighth annual conference at the University of California, Los Angeles, drawing concerns from some members of the school's pro-Israel community.
The event, based on the theme of "resistance in the face of adversity," will take place from November 16-18.
In a note explaining the conference's goals, National SJP and its chapter at UCLA defined Zionism — a diverse national liberation movement that supports the Jewish people's right to self-determination in their historic homeland — as "ethnic cleansing, destruction, mass expulsion, apartheid, and death."
Prominent Jewish groups like the World Jewish Congress and the Conference of Presidents of Major American Jewish Organizations — whose umbrella includes the nation's principal bodies of Reform, Conservative, and Orthodox Judaism — have in the past described Zionism as "a longstanding and sincerely held religious belief central to the Jewish religion."
The conference will seek to remind students "that Zionism is not an insurmountable force," the organizers explained. "The reason we can have hope is that Zionism is a human ideology and a set of laws that have been challenged and can be destroyed."
Participants will need to "work on reframing Zionism" as a concrete force "that can be broken down and dismantled," particularly through local campaigns with "clear targets."
Workshops at the event will enable students to pick up the skills necessary for coalition building, fundraising, and combating "normalization" — often defined as interactions between Palestinians and Israelis (and/or their supporters) that may include the legitimization of Zionism, even in the context of Israeli-Palestinian reconciliation work.
The conference will also help build "regional momentum" in the West Coast, as well as examine how successful divestment resolutions targeting Israel have recently been implemented in the UC system, in order to serve as a model for other SJP chapters.
These resolutions, a hallmark of SJP's work on campus, are part of the broader boycott, divestment, and sanctions (BDS) campaign against Israel and its supporters. The Palestinian-led movement describes itself as an effort "to isolate Israel academically, culturally, economically and militarily," in order to force the country to comply with international law. Critics accuse it of aiming to dismantle the Jewish state, a goal accepted by BDS co-founder Omar Barghouti, who has in the past rejected the notion that Jewish people have a right to self-determination by claiming that they are not a nation.
Several studies have suggested that anti-Zionist activity like BDS is a contributing factor in the rise of antisemitism on US college campuses, with the head of UCLA's Students Supporting Israel (SSI) group accusing SJP of using "racist and hateful tactics" while forcefully disrupting its "Indigenous Peoples Unite" event this past May.
Aided by members of the off-campus Revolutionary Communist Party, the protesters tore down Armenian and Israeli flags, threw SSI materials onto the ground, and used bullhorns to chant slogans calling for the establishment of a Palestinian state in place of Israel, including, "we want 48, we don't want two states," and "from the river to the sea, Palestine will be free."
The incident — which was condemned by UCLA officials, and is currently being reviewed by a Los Angeles city prosecutor — was a "personal attack" on Jewish students and "their identities, their freedoms, and their safeties," Hirmand Daniel Sarafian, president of SSI at UCLA, told The Algemeiner. "SJP acted violently to remind Jewish, pro-Israel students, and their partners that they are a violent organization on our campus [that denies freedom of speech], as in other parts of the country."
"By bringing its national conference to our campus, SJP not only ignores the victims of the 'Indigenous Peoples Unite' disruption, it acts to further humiliate them," he said.
Sarafian described Zionism as a movement for the return of "an ancient and indigenous people" to their homeland "after millennia of colonization and imperialism by foreign occupying forces."
"Today, decades after the Jewish people have returned to their home to establish an indigenous and democratic state, its people have faced the same anti-Semitism and Zionophobia employed in the ideologies of the land's colonizers," he asserted. "SJP and other groups actively seek the advancement of such hateful ideologies, and as evidenced by May 17th, have used violent and harmful means to do so."
He urged the university to "continue with a thorough investigation into SJP," and "take the correct measures to ensure the [safety] of all Jewish and Zionist students."
Asaf Romirowsky, executive director of Scholars for Peace in the Middle East, pointed out that SJP is a subsidiary of American Muslims for Palestine (AMP), which he said has "direct ties" to the Palestinian terrorist group Hamas.
AMP and several of its affiliates are accused in an ongoing lawsuit of serving as the "successors and alter egos" of a Hamas-support network that in 2004 was found liable for the death of American teenager David Boim at a bus stop near Jerusalem in 1996.
Hatem Bazian — chairman of AMP and co-founder of SJP, who works as a lecturer at UC Berkeley — dismissed the lawsuit as "frivolous" when it was first introduced last year.
"They are using the Islamophobic environment we are in to try to tarnish and defame an organisation that is in good standing, and has been working diligently to provide a perspective on the Palestine cause to the American public," he told Reuters.
Romirowsky indicated that these alleged ties should encourage UCLA "to be much more concerned about the sources of the money [for the conference] and what they are allowing to come in to their institution."
A spokesperson for the school told The Algemeiner that it "is bound by the First Amendment, which protects everyone's right to express their ideas, even those that are controversial or unpopular."
He noted that a student conduct process was launched after SJP's disruption of the SSI event, and that the administration "remains committed to protecting all of our students, regardless of their religious or ethnic identities or political beliefs."
"Today we are proud that UCLA has many intellectual and cultural links to Jewish and Israeli institutions," the spokesperson added. "Many UCLA schools, departments, and institutes have active student and faculty exchange programs with Israel and we have study abroad programs at the Hebrew University, the Jerusalem Academy of Music and Dance, Ben-Gurion University of the Negev and the Technion."
Yet Romirowsky cautioned that the SJP conference, which "calls for the destruction of another people," remains "problematic in a variety of ways."
The rhetoric advanced by SJP includes "the demonization of Israel, and of Jews and Israelis at large," and "is predominantly also anti-Western and anti-American," he said. "None of this is helpful for any kind of reconciliation or discussion of a two-state solution."
While National SJP does not explicitly endorse a specific solution to the Israeli-Palestinian conflict, it does require all of the 200 chapters it claims nationwide to accept its "points of unity," which are identical to those supported by the BDS campaign. They include a call for the "right of return" of Palestinians displaced by the 1948 Arab-Israeli War and their roughly five million descendants to Israel, which Jerusalem says would effectively turn the country into a Palestinian-majority state.
National SJP and SJP at UCLA did not immediately respond to The Algemeiner's request for comment.
National SJP's last conference took place in October at the University of Houston, months after several students at the school were accused of sharing "disturbing" social media posts relating to Jews and Israel. During its 2016 conference at George Mason University, the group sold apparel with the image of a rifle-bearing Leila Khaled — a member of the Popular Front for the Liberation of Palestine, a blacklisted terrorist organization responsible for multiple suicide bombings and other massacres — alongside the caption, "Resistance is not terrorism."
Other conferences have been hosted at San Diego State University, Tufts University, Stanford University, the University of Michigan, and Columbia University.
[Update: It appears that UCLA is unsure about hosting this conference in November.]
Reprinted from The Algemeiner.​