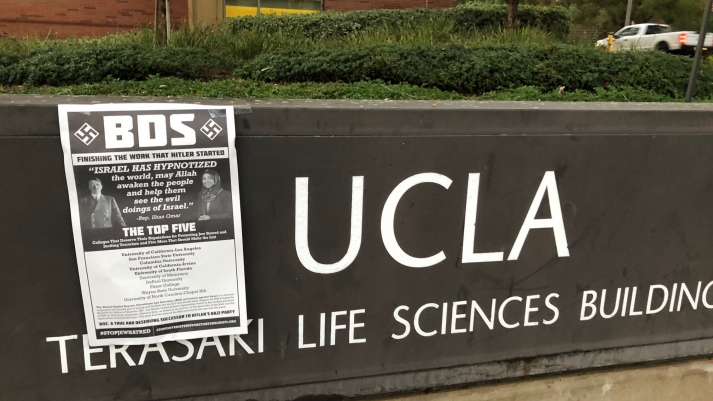 The Department of Education's Office of Civil Rights (OCR) announced last month that it will investigate a Jewish student's complaint of anti-Semitism at UCLA in connection with the University's decision to host the 2018 Students for Justice in Palestine (SJP) National Conference. That student, Justin Feldman, filed the complaint with the help of the Zachor Legal Institute alleging that invited speakers at the SJP conference promoted and glorified terrorism and violence.
The OCR investigation represents a crucial step forward for opponents of Jew hatred on campus. The charges that Feldman and the Zachor Legal Institute have brought against SJP are the same ones that the David Horowitz Freedom Center has exposed and publicized for over a decade. It is the cumulative work done by the Freedom Center and other organizations in publicizing these outrages combined with President Donald Trump's firm stance against Jew hatred, that has led to this critical juncture.
As the Freedom Center has voiced in numerous articles and reports, and in direct action taken on college campuses, Students for Justice in Palestine is funded by the anti-Israel terrorist organization Hamas, whose goal, as stated in its charter, is the genocide of the Jews and the destruction of the Jewish state. Hamas uses SJP and its collegiate network to promote the anti-Semitic Boycott, Divestment, and Sanctions (BDS) movement against Israel on campuses across the United States.
Hamas, for its part, employs a network of Islamic "charities" and front groups, most notably the organization American Muslims for Palestine (AMP), to funnel large sums of cash and provide external support to assist SJP chapters in promoting the genocidal and anti-Semitic BDS movement at American colleges.
The funding Hamas provides to SJP is a matter of federal record. In testimony before the House Foreign Affairs Committee, Jonathan Schanzer, an expert who previously worked as a terrorism finance analyst for the United States Department of the Treasury, revealed, "At its 2014 annual conference, AMP invited participants to 'come and navigate the fine line between legal activism and material support for terrorism.'"
Schanzer described AMP as "arguably the most important sponsor and organizer for Students for Justice in Palestine (SJP), which is the most visible arm of the BDS campaign on campuses in the United States" and revealed that AMP "provides speakers, training, printed materials, a so-called 'Apartheid Wall,' and grants to SJP activists" and "even has a campus coordinator on staff whose job is to work directly with SJP and other pro-BDS campus groups across the country." He added, "according to an email it sent to subscribers, AMP spent $100,000 on campus activities in 2014 alone."
AMP is headed by the notorious anti-Semite and jihad supporter, UC Berkeley professor Hatem Bazian, the co-founder of SJP. AMP's board, as Jonathan Schanzer has shown, is dominated by former leaders of the Holy Land Foundation which was successfully prosecuted by the US government for funding Hamas. SJP is the chief campus sponsor of BDS—a Hamas orchestrated campaign to isolate and financially strangle the Jewish state.
Israel's Minister of Strategic Affairs and Public Diplomacy Gilad Erdan has backed up Schanzer's findings, declaring that, "The relationship between terrorist organizations and the BDS movement has never been closer, ideologically or operationally."
Despite this ample evidence that Students for Justice in Palestine is an anti-Semitic hate group allied with known terrorists, universities across the nation continue to provide funding, support and institutional privileges to SJP.
Even among the 200 or so campuses in the United States that officially sanction chapters of SJP, UCLA stands out for its cooperation with SJP's genocidal agendas and its failure to protect Jewish students and their right to pro-Israel speech on campus. The UCLA SJP chapter has repeatedly and violently disrupted pro-Israel events in violation of UCLA's community standards. Not only did the UCLA administration choose to ignore this despicable conduct, they still aided SJP in bringing their national conference to campus.
For more than a decade UCLA chancellors have funded and defended this terrorist support organization and attacked the Freedom Center's efforts to expose their sinister agendas. When the Freedom Center distributed anti-BDS posters on campus exposing SJP's affiliations with Hamas, UCLA Vice Chancellor for Equity, Diversity and Inclusion Jerry Kang sent an email to the 50,000 members of the UCLA community attacking Horowitz and calling the posters "repulsive" and "hateful." Kang has been an open supporter of SJP and its campaign of hate.
"This case … [is] about incitement to violence being exported to campuses all around the country," UCLA student Feldman told the Jewish Journal.
"If you want to have rightful advocacy for Palestinian self-determination on campus, you can," Feldman added. "Just make sure it's not affiliated with funding terror groups, and this is what we're fighting against with this civil rights case."
A spokesman for UCLA contested Feldman's claims, stating that "That conference was exclusively sponsored by Students for Justice in Palestine, one of our 1,200 registered student groups — not the university," and adding that "No public funds or student fees were used" to hold the event. But this attempt at deflection is clearly a lie.
Marc Greendorfer, founder of the Zachor Legal Institute and one of the attorneys handling Feldman's complaint, points to documents acquired through a Freedom of Information Act (FOIA) request which prove that UCLA funded the event through both the UCLA Office of Equity Diversity and Inclusion's Bruin Excellence and Transformation (BEST) program. The University also paid for security and barricades at the event and there is email evidence that administrators discussed how best to "minimize and or counter the impacts of backlash." From all available evidence it appears that UCLA was far from a disinterested party to the SJP conference.
"UCLA clearly had their hands all over this," attorney Greendorfer stated. "They say that they had nothing to do with it. That's an absolute lie."
While Feldman and the Zachor Legal Institute deserve much of the credit for filing the specific complaint leading to the OCR investigation, it is important to recognize the larger cultural shift that has enabled such complaints to be taken seriously. Groups like the David Horowitz Freedom Center and the Canary Mission have spent years exposing SJP's links to terrorism and that continual stream of truth-telling has finally begun to take root in the public consciousness.
During 2007-2009, the Freedom Center organized an Islamo-Fascism Awareness Week on over one hundred campuses to draw attention to the atrocities and dangers perpetrated by adherents to radical Islam. In subsequent years, the Freedom Center worked with students to bring the Terrorism Awareness Project and Islamic Apartheid Week to American universities. Prominent colleges and universities set up and displayed the Freedom Center's "Wall of Lies" which countered Hamas propaganda claims that Israel is an apartheid state that is built on stolen Arab land – in short to dramatize that "The Palestinian Cause is based on a Genocidal Lie" as a half-page we placed in the NY Times stated.
More recently, the Freedom Center's Stop the Jew Hatred on Campus and Stop University Support for Terrorists campaigns have exposed the inner workings of the Hamas-funded and Muslim Brotherhood-linked organization Students for Justice in Palestine and lobbied university administrators to withdraw funding and support from this terrorist-allied campus group. For the past five years we have published a report on the Top Ten Campuses that Promote Jew Hatred and have publicized our findings directly to students on those campuses.
The Freedom Center's collegiate campaigns have centered around an undeniable truth: the Palestinian cause is a genocidal aggression based on genocidal lies to "finish the job that Hitler started." It is the public's gradual realization of this truth—aided by the spotlight applied by the Trump Administration—that has enabled the OCR complaint against UCLA to go forward.