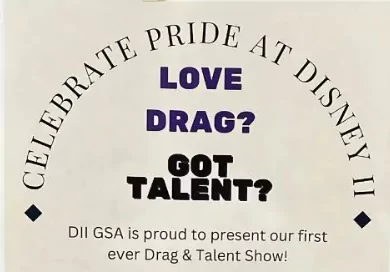 The Disney II Magnet Elementary and High School is a public school located in Chicago, Illinois. Its website proudly boasts the motto "A place to learn, discover, and do." But not, apparently, to dissent.
An engineer who worked for the Chicago Public Schools reports that she was summarily fired from her position at the school after she raised concerns about a student-produced Drag show that was sponsored by the school's Gay-Straight Alliance (GSA) club.
According to the engineer, who spoke anonymously with Libs of TikTok, a flurry of posters had gone up around the school's campus urging students in grades 7-12 to join a "Drag & Talent Show." Concerned that such a performance might be inappropriate for underage students, the engineer voiced her concerns to a school security guard, stating "I can't get on board with that," referring to the poster.
Assistant school principal Matt Fasana overheard this private conversation and immediately asked her to explain. When the engineer expressed her reservations about a drag show being an appropriate event for middle and high school students to take part in, the assistant principal accused her of not supporting "equal opportunity."  The engineer responded, "I am for equal opportunity. I just don't think that drag is equal opportunity."
Despite her legitimate concerns about the drag show, the engineer was eager to maintain a positive relationship with the assistant principal and so later apologized for her tone, again explaining that she was just concerned about the safety of the students. But apparently the die had already been cast. Just a few hours later, the engineer was informed that she was being placed on paid leave. One week later, after a brief meeting with Eco-Alpha, the company that manages her and contracts her to the Chicago Public Schools, the engineer was told she was officially being terminated, allegedly for "disciplinary actions."
Unwilling to stand for such blatant discrimination for her views on safeguarding children, the engineer hired a lawyer and pressed for further answers, filing a grievance complaint.
"In the Chicago Public Schools training videos, it says 'If you see something, say something,'" the employee explained in her grievance letter. "I felt with the training I received from CPS, I was supposed to say something. How was I going to work somewhere where the safety of myself, students, and staff wasn't taken into consideration?"
The engineer explained to Libs of TikTok that this wasn't her first experience being exposed to transgender ideology or inappropriate material while working at the school. During her training period, she was required to watch a video featuring a 13-year-old transgender student who is dressed in fishnet stockings and lingerie.
After filing her grievance complaint, the engineer received a second letter from her employer, changing the alleged reason for her termination. This second letter claimed that she "knowingly and repeatedly made discriminatory statements" in violation of her employer's Code of Conduct—an obvious reference to her privately-voiced concerns about a student-led drag show.
Ironically, the engineer notes that after her termination, she "found out the posters were taken down and at a later date the show was cancelled."
"If there weren't safety and security issues that I acknowledged, why would the posters be taken down and the talent show cancelled?" she asked. Chicago Public Schools has not so far deigned to give her an answer.